WASHINGTON -- Visiting Chinese State Councilor Dai Bingguo met here with US Secretary of State Condoleezza Rice and National Security Advisor Stephen Hadley on December 12, 2008 separately to exchange views on bilateral ties as well as international and regional issues of common concern.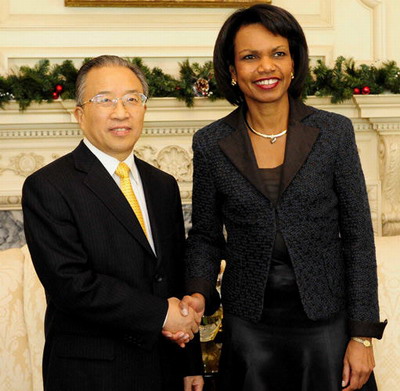 Visiting Chinese State Councilor Dai Bingguo shakes hands with US Secretary of State Condoleezza Rice in Washington December 12, 2008. [Xinhua]
During the meetings, Dai recalled the great development that has been achieved in bilateral relationship since China and the United States forged diplomatic ties 30 years ago, especially the stable growth in the past eight years.
Dai said that the recent years had witnessed frequent contacts and high-level exchange of visits of the two countries, especially between state leaders, as well as deepening political and economic dialogues, ever-increasing mutual understanding, growing common grounds, expanding bilateral cooperation, and more and more convergence of mutual interests.
All these achievements highlight more than ever the strategic significance and global influence of a sound and stable Sino-US relationship, Dai said.
The state councilor said that the Chinese side was ready to work with the US side to move bilateral relationship of constructive cooperation forward.
For this end, he said, the two sides should continue to treat bilateral relationship from a strategic and long-term perspective, enhance dialogue, coordination and cooperation, and respect and accommodate each other's core interests and major concerns.
Rice said since the establishment of diplomatic ties, relations between the United States and China had kept improving and bilateral cooperation had been increasingly deepened.
The two sides have also had frequent communication and coordination in many areas such as how to cope with the ongoing global financial crisis and prevent the proliferation of weapons of mass destruction, she said, adding that the United States and China have become good cooperative partners.
Rice said the Strategic Dialogue and Strategic Economic Dialogue between the United States and China should be carried on and expanded because the dialogues had increased mutual understanding and common grounds, achieved fruitful results and laid a solid foundation for the growth of bilateral friendly cooperation.
Hadley said that US-China relationship had witnessed great growth in recent years thanks to efforts made by state leaders of the two countries.
He said the two sides should continue to strengthen cooperation in bilateral fields and on international and regional issues in a bid to move bilateral relationship further ahead.
At the invitation of the US government, Dai arrived in New York on Wednesday on a week-long working visit to the United States.
The senior Chinese official is expected to co-chair the sixth Strategic Dialogue between the two countries with US Deputy Secretary of State John Negroponte in Washington on Monday.
The China-US Strategic Dialogue was launched in August 2005 in accordance with the consensus of the two heads of state. The fifth dialogue was held in China in January this year.