BEIJING  -- China hopes to work with the United States to maintain a healthy and stable relationship which benefits the people of both countries and the world, said Chinese State Councilor Dai Bingguo on Wednesday.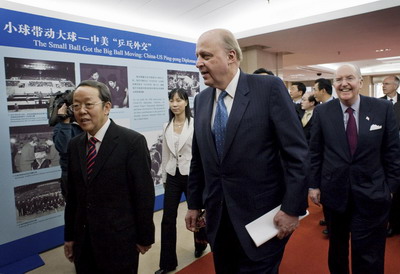 US Deputy Secretary of State John Negroponte (C) arrives with China's Vice Foreign Minister Wang Guangya (L) to watch a commemorative table tennis match, marking China's invitation to a US table tennis team to visit in 1971, in Beijing January 7, 2009. Negroponte visited China on Wednesday to mark the 30th anniversary of US-China diplomatic ties. [Agencies]
"Sino-US relations are at a crucial point linking the past to the future," Dai told the US Deputy Secretary of State John D. Negroponte, who was here to honor the 30th anniversary of Sino-US relations.
Dai said China and the US shared common interests and consolidated a strategic foundation. This paved the way for further development of the relationship.
He summarized four achievements in Sino-US relations made during the Bush administration.
--The two countries confirmed the relationship as stakeholders and constructive cooperators.
--The two heads of state maintained frequent contacts.
--High-level strategic dialogues were institutionalized to promote mutual trust and cooperation.
--Cooperation in all areas deepened such as major international and regional issues.
"Sino-US relations have made remarkable progress over the past three decades and this linked the two countries closely," Dai said.
Negroponte said both the US and China were important countries in the world and needed more dialogue and cooperation to safeguard global security and stability.
The strategic dialogue and the strategic and economic dialogue were two effective mechanisms and should be continued, he said.