BEIJING -- Chinese President Hu Jintao called for strengthened cooperation with the United States as the two countries marked the 30th anniversary of diplomatic ties on New Year's Day.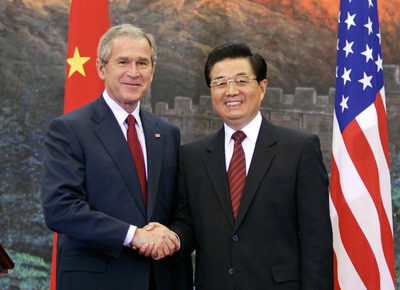 Chinese President Hu Jintao (R) and US President George W. Bush shake hands after their meeting in the Great Hall of the People in Beijing in this November 20, 2005 file photo. [Agencies]


Thousands of peace doves were released in Beijing's Tiananmen Square at dawn on Thursday, as the Chinese flag was raised for the first morning of 2009. The United states officially established diplomatic relations with China on Jan 1, 1979.

Official China-US ties "not only brought tremendous welfare to the people of the two countries, but also made great contributions to peace, stability and development in Asia and the world," Hu said in a congratulatory message.

"China is willing to work together with the US in strengthening dialogue and exchanges, enhancing mutual trust and cooperation, further expanding the foundation for bilateral cooperation and common interests, and pushing the China-US constructive and cooperative partnership to greater depth in a healthy and stable manner," Hu said.

The Xinhua news agency praised "steady progress amid twists and turns," thanks to "concerted efforts by both sides".

In a letter to Hu, US president George Bush praised a "more constructive and cooperative" relationship between the Chinese and US governments during the eight years of his administration, mentioning progress in addressing terrorism, pandemic disease and nuclear weapons proliferation.

The Chinese embassy in Washington issued a statement praising the Strategic Economic Dialogue, whereby the two sides have met regularly during the Bush administration to discuss issues.