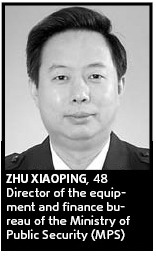 I must stick to the five ethics of 'uprightness, honesty, goodwill, modesty and factuality'.
At the age of 48, Zhu was considered a prominent officer and rising star in the ministry.
"He was upright, tolerant, passionate and modest. Almost every time he went on business trips, he left the airport directly for the meeting room," said Yao Ziguo, an officer with the ministry's equipment and finance bureau, with tears in eyes.
"He was a man focused on the smallest details making up the national policing system," said Shen Zhigao, another of Zhu's colleagues.
Yao said when Zhu left for Haiti last week, he was still worried about a budget reform for the public security system. "He was such a diligent officer," Yao said.
He recalled that in the winter of 2003, Zhu was assigned to lead a team to inspect and supervise local police departments in Northwest China's Xinjiang Uygur autonomous region.
During the three-month trip covering nearly 30,000 km, he braved storms and freezing cold to visit police stations.