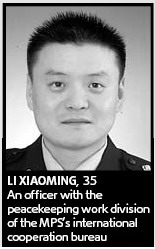 "Do I look handsome and fresh?" - Li, with wet hair, asked his colleagues after bathing when his duties were done.
Li was only 26 when he was sent to East Timor as the vice-captain of the police force in 2000.
Li was very proficient in English, which often impressed his foreign colleagues. He once got an overall IELTS score of 7.5 - a quite impressive result.
"In the year in East Timor, Li did lots of research on how to build up a scientific policing system there. He was awarded by the United Nations for his achievements," said Lu Cong, an officer with the peacekeeping work division.
Li also helped establish China's first anti-riot peacekeeping police team in Haiti in 2004. Because of his proficient English, he also helped ensure a successful torch relay for the 2008 Olympic Games abroad.
To fully build up the first riot squad of China's peacekeeping mission in Haiti, Li was responsible for preliminary research, planning and member recruitment.