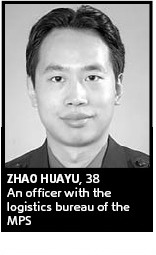 Thinking of my unfinished work and young child ... I told myself repeatedly: 'Don't worry. Don't panic. Hang on'
After three years' of training and examinations, Zhao finally made his trip to Haiti, a place he was greatly attached to.
However, only 20 days after his arrival, he was struck by dengue. "After repeated fever and pains, hemorrhage was seen in my mouth, eyes and skin," he wrote in his diary.
But Zhao survived, thanks to his strong character.
"When he called me, he often said he missed his little son," Zhao's colleague Yu Jianqun said.
"Zhao said he's sorry for his own child for he failed to be a caring and responsible father, but he gave his love to the children in Haiti."
Zhao Chuancheng, deputy director of the ministry's logistics bureau, said almost everything that the peacekeeping force has in Haiti, from living necessities to weapons, were carefully selected by Zhao Huayu. "He made careful plans and calculations and never spent an unnecessary penny."