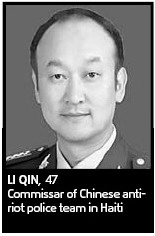 Smoking is not conducive to the management of forces and it stains the image of Chinese troops.
A smoker for many years, Li quit smoking immediately when he was appointed to the new job.
As an anti-drug officer for dozens of years, Li cracked several big drug-trafficking cases in Southwest China's Yunnan province.
In November 2005, with the help of police counterparts in Myanmar, Laos and Thailand, Li successfully caught a drug tycoon and seized more than 700 kg of heroin as well as some munitions.
His experience also worked in Haiti. During his service there, Li and his fellow members participated in several anti-riot actions, including a large riot in southern Haiti in April 2008.
On Aug 15 2008, Li and the anti-riot team under his direction came back to China from their first peacekeeping mission in Haiti. However, Li returned to Haiti in September 2009, just 10 months later, for his second term.