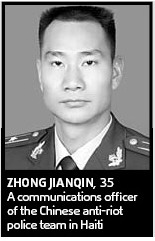 One hand for a weapon and another for a camera, I need to work on news reporting and stop riots at the same time.
An anti-riot squad member and a reporter, Zhong was determined to shoot pictures during a rescue in April 2008, with a gunman just across the street.
His main task in Haiti was to record the life and work of the entire anti-riot team and to show the pictures to China and the rest of the world.
"Zhong faced more danger than we do. When we held weapons, he held cameras," a colleague in Haiti said.
But the biggest pity for Zhong might be that he would never have the chance to see his 210-day old daughter.
Zhong went to Haiti on June 13, 2009, and his daughter was born four days after in China, on June 17.
The day Zhong died, his baby girl was yet to be named, as he wished to give her a beautiful name when he returned to China.