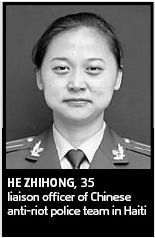 I am a thriving grass demonstrating vitality and a determined feather carrying the wish for peace.
After a hard decision in May 2007, when her child was just one-year-old, He Zhihong, a former officer with the Kunming frontier checkpoint of Yunnan boarder police, joined the anti-riot police team to Haiti.
She decided to leave her own child in order to help more children in Haiti. As soon as she arrived at Haiti on Dec 3, 2007, He got to work.
With her active liaison work, the anti-riot team quickly established rapport with other peacekeeping forces through talks and visits, laying solid groundwork for the smooth operation.
During her service at Haiti, she interpreted for many officials, including delegates from the United Nations, Brazilian delegation, and Jordanian delegation, and her work was unanimously appreciated.