Nation has provided Caribbean country with $7 million in assistance and aid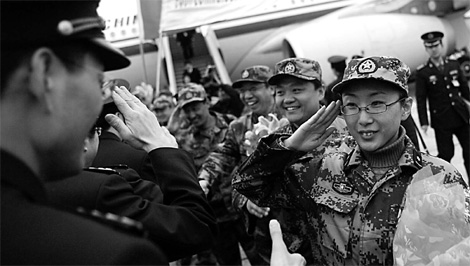 Members of the Chinese medical team arrive at Beijing Capital International Airport. They returned home after winding up a two-week emergency aid and epidemic control mission in quake-stricken Haiti, bring help and succour to countless victims of the disaster. [China Daily] 
The last 30 days since the devastating earthquake in Haiti have not only witnessed the suffering and fortitude of the Haitian people, but also the borderless love of the international community.
As a major developing country, China actively joined the world-scale disaster relief efforts and exhibited a glorious humanitarian spirit.
Related readings:


 China Center heeds Haiti's needs


 China medical team to return home today from Haiti


 China delivers 25 tons of medical aid to Haiti


 Charity concert held in SW China for Haiti quake


China, US peacekeepers conduct joint patrol in Haiti
The 7.3-magnitude earthquake in the afternoon of Jan 12 ruined the capital Port-au-Prince and killed thousands of people in a moment.
"The whole city sank into darkness. People were running, crying or screaming on the street with nowhere to go," said an official from an international charity group.
"There are no people, no medicines, no explanations. There is nothing... Who can tell me why my daughter should die like this?" cried a mother who was holding her dying daughter in her arms outside a hospital.
The world heard the cry for help from the heavily damaged Caribbean nation and took immediate action. In addition to the $10 million in emergency aid announced by the United Nations, rescue teams and materials were sent to Haiti from across the world.
As soon as news of the disaster reached China, the Chinese leadership ordered related departments to be prepared to give assistance.
In the early morning of Jan 14 local time, a Chinese chartered airplane carrying 60 rescuers and doctors as well as equipment and medicine landed at Port-au-Prince airport.
The Chinese rescuers set to work as soon as they reached the headquarters of the UN Stabilization Mission in Haiti. There, the Chinese peacekeeping police officers who had been stationed in Haiti and survived the earthquake had pulled several people out of the rubble.
"We couldn't waste time thinking about safety instead of saving lives because it would have been too late if we waited," said Wang Xueyan, who worked with her Canadian colleague Martin to rescue five people in two hours after the quake.
Wang said she walked out of the building 10 minutes before its collapse in the earthquake.
After about 36 hours of continuous work, the Chinese rescuers dug out the bodies of the mission chief, vice-chief and eight Chinese peacekeeping police officers. They were attending a meeting in the building at the time of the quake.
Moved by the spirit of the Chinese rescue team, UN Secretary-General Ban Ki-moon said "thank you" in Chinese three times when he visited the Chinese rescuers at the site of the mission headquarters on Jan 17.
Sustaining the agony of losing colleagues and comrades, the Chinese rescuers moved to other badly damaged sites to look for traces of life.
"We made 200-percent effort on the slightest hope," said Wang Zhiqiu, vice team leader of the Chinese rescue team.