Exchanging medical aid for the friendship of local people, China's medical team returned to Beijing yesterday after completing a 15-day mission of rescue work that saw them treat nearly 4,000 people in earthquake devastated Haiti.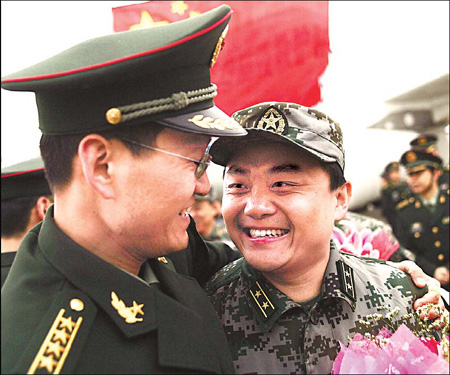 Chinese medical team members are welcomed back at the Beijing Capital International Airport on Wednesday after completing a 15-day mission in Haiti. [Photo/Guan Xin] 
"Although the Chinese medical team has left, they will be always remembered," Haitians told the Chinese team, which set up two temporary hospitals and left tents, facilities and materials for the Haitians, as well as giving special training to local doctors, nurses and volunteers.
During their 15 days of work, the Chinese medical team treated nearly 4,000 people, gave out over 150 kinds of medicines, disinfected 51,000 sq m of area, set up 2,200 houses and tents, and sent out 8,000 brochures to inform people about epidemic disease prevention.
Related readings:


 Haiti's earthquake death toll rises to 270,000


 Chinese medical team in Haiti back home


 China delivers 25 tons of medical aid to Haiti


 Chinese peacekeepers in Haiti extend new year greetings
Edmond Mulet, acting head of the UN peacekeeping mission in Haiti, expressed gratitude for China's support to the UN and praised the Chinese medical team for its excellent work.
"We, as soldiers and medical workers, are happy to perform our duty to heal the wounded and rescue the dying, and provide humanitarian aid to the needy," said senior colonel Liu Wendou, leader of the medical team.
It was the second Chinese medical team to help quake victims in Haiti, with members of the first one chosen from the military out of consideration for the harsh conditions there and the soldiers' training in swift response, endurance and dedication, said Liu.
"From receiving the order from the government to go to Haiti, it took us less than a week to prepare," Liu said.
"Security is the biggest problem we faced in Haiti," said senior colonel Sun Yansong, deputy head of the medical team and director of the PLA Center for Disease Control and Prevention.
"The nearest shooting happened only 100 m away from us," said Sun.
At the forefront of relocation sites, where many quake victims sought medical treatment, staff faced direct threats to their own security.
On the last day in Haiti, Haitians waited along the roadsides where the bus carrying the Chinese medical team passed and held banners reading "Haiti, China, Friends" in French and Chinese, doctor Song Hongbin recalled.
"They ran after our bus and cried: 'I love you guys. I love China'," Liu added. "After we were there a few days, many Haitians came voluntarily to look after our tents when we were away for meals, and they cleaned up the area around us, and helped maintain order in the queue of people waiting for treatment."
China delivered its third shipment of medical aid to Haiti on Monday, which included up to 25 tons of tablets, rehydration liquids, gauze and medical alcohol. They were immediately sent to Haiti's health ministry, which will distribute the supplies to health centers, the International Red Cross and other medical teams that offer aid to over 300 camps, according to Xinhua News Agency.
The previous two shipments arrived on Jan 17 and 26. To date the Chinese government has delivered aid worth $4.4 million.