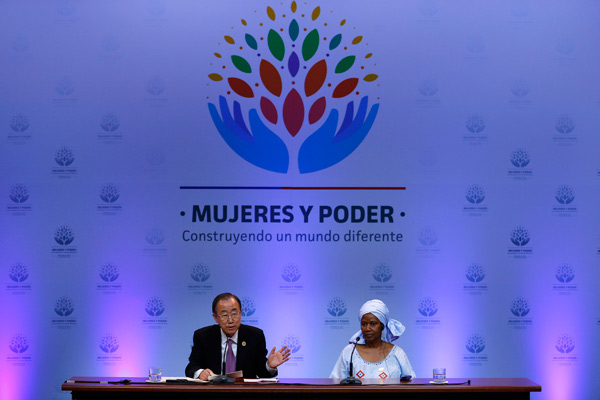 UN Secretary-General Ban Ki-moon and Executive Director of UN Women Phumzile Mlambo-Ngcuka deliver a declaration during the UN World Summit Meeting on Women and Power in Santiago, February 27, 2015. [Photo/Agencies]
UNITED NATIONS - UN Women chief Phumzile Mlambo-Ngcuka applauded the progress China has made in women empowerment, especially in the areas of education and health.
In a recent interview with Xinhua, Mlambo-Ngcuka highlighted education and health, saying China has made significant improvement for women in both areas.
"And of course the fact that...in China you also have women get into non-traditional jobs, science, technology" among others, she said.
According to China's Implementation of the MDGs (2000-2015) report published jointly by China's Ministry of Foreign Affairs and UN presence in China in July 2015, China has achieved gender equality in primary and secondary school education. In addition, the gap between boys and girls in terms of the years of education was narrowed from 1.3 years in 2000 to 0.8 years in 2014.
There are over 21 million women working in science and technology areas, making up around 40 percent of the total number of Chinese workers in those fields, the report said.
Mlambo-Ngcuka noted that she expected to see an increase of women entrepreneurs in China because as a big economy, China can offer lots of opportunities for women.
"I think more women can also be responsible for running the economy because they do so well," she said.
On China's initiative "to build a community of common destiny," Mlambo-Ngcuka said all women and men want their rights to be respected, live in a world where they will be free of poverty and hunger and want to have a place in society.
] At the same time, the UN Women chief urged countries to invest in gender equality for making lasting changes for women and girls to ensure they can fulfill their lives.
Mlambo-Ngcuka said she hoped that world leaders attending an upcoming summit on gender equality and women's empowerment at UN headquarters on Sept. 27 would come up with a universal message to address problems facing women and girls.
The summit will be chaired by Chinese President Xi Jinping and co-hosted by the UN Women and China.
Over 70 world leaders are expected to make concrete commitments and firm pledges to overcome gender equality gaps at the summit.