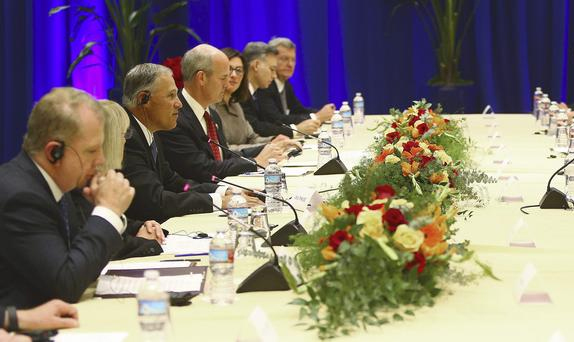 A local delegation of officials begin talks with President Xi Jinping in Seattle, Washington, September 22, 2015.[Photo/Agencies]
He said both governments and cities need to work on cooperation, provide support and connections, and boost economical and cultural exchanges. Xi also said he expected further cooperation and mutual development in sectors such as manufacturing, biotechnology and environmental protection.
US representatives at the meeting included Washington Governor Jay Inslee, Seattle Mayor Ed Murray, US Congressman Rick Larsen, former Washington governor and US ambassador to China Gary Locke.
They said they felt honored to welcome Xi to Seattle and Washington, noting that the state has a long history of good relations with China and has been expanding cooperation with China in a wide range of areas, including trade, economic, culture and clean energy technology. They also said they expect to speed up cooperation with China and strengthen Sino-US relations in the future.
"The stable relationship between China and the US is not only good for both peoples of China and the US, but also important for world stability and prosperity," they said.
Other Chinese officials at the meeting were Wang Huning, member of the Political Bureau of the Communist Party of China, Li Zhanshu, member of the Political Bureau of the CPC Central Committee and Chinese State Councilor Yang Jiechi.
Lijing2009@chinadaily.com.cn