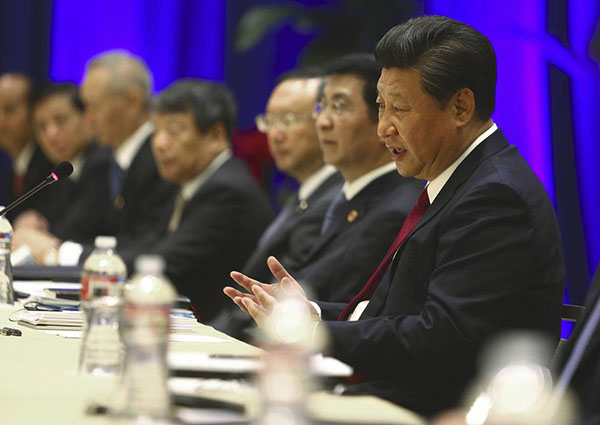 President Xi Jinping (R) begins talks with a local delegation of officials in Seattle, Washington, September 22, 2015. [Photo/Agencies]
Chinese President Xi Jinping called for closer cooperation between China and Washington State in a meeting with the governor, members of the state Senate and Assembly and the mayor of Seattle on Tuesday.
"I have come to the United States to deepen friendship between our two peoples, expand practical cooperation across the board and bring about even greater progress in the building of the new model of major-country relationship between China and the United States," Xi said in Seattle. Xi said China and the US are the most important countries in the world.
In 2013, Xi and US President Barack Obama met in Sunnylands, California, and reached a consensus to build a new model of major-country relationship between China and the US, one of no-conflict, non-confrontation, mutual respect and win-win cooperation.
Xi said Seattle and Washington are important gateways to China and Asia. He reviewed the history of Liu Lin Hai, a vessel of China Ocean Shipping Group Co that sailed into the Port of Seattle in April 1979, the first Chinese-flag ship to call on a US port since the founding of the People's Republic of China.
"It marked the start of US-Chinese maritime relations. Now Washington State has the largest exports to China among all the states in the US," he said. "For the future, the city of Seattle as well as Washington State need to work together with China to 'change gear and speed up' for cooperation and development."

A local delegation of officials begin talks with Chinese President Xi Jinping (2nd R) in Seattle, Washington, September 22, 2015. [Photo/Agencies]