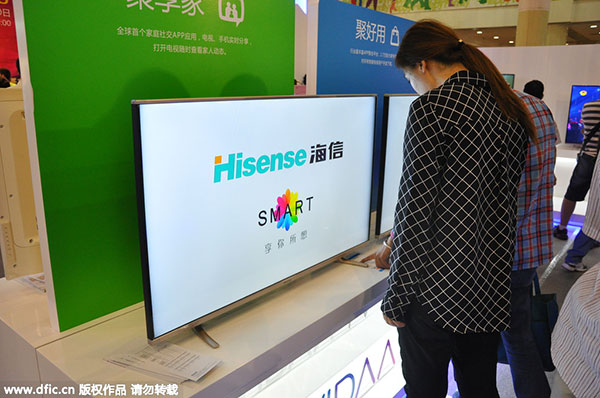 Customers watch the Hisense smart TVs at an exihibition in Shenyang city, capital of Northeast China's Liaoning province. [Photo/IC]
Move expected to expand overseas reach of Chinese TV maker
Chinese TV manufacturer Hisense Group said on Tuesday that it will acquire Sharp America's television business for the North and South American markets in a deal worth $23.7 million.
Though the acquisition is expected to expand the Chinese company's overseas reach, it will have little impact on the cash-strapped US arm of the Osaka, Japan-based Sharp Corp, said industry experts.
Hisense said the deal includes Sharp's TV factory in Mexico which has an annual manufacturing capacity of 3 million liquid crystal display sets, as well as all of Sharp's channel resources in North and South America regions excluding Brazil.
Liu Bin, general manager of Hisense America, said the Chinese firm would transfer its ultra light emitting diode technology, as well as Internet interactive technology onto Sharp's products to enhance the latter's performance in the Americas. The acquisition is expected to boost Hisense's US income by an extra $2 billion, he said.
"North America, Europe and Australia are the three markets in which we have to make breakthroughs for our global strategy. Sharp has long been crowned as the forefather of LCD technology. Hisense has always been looking up to its technologies, capacity and distribution channels. The acquisition of Sharp's Mexico factory will not only increase our capacity in the Americas, but also enable faster growth in the American markets and enhance our bargaining power," said Lin Lan, vice-president of Hisense, adding that the group's short-term strategic goal is to make itself into one of the top three global LCD TV brands.
According to US market research institute IHS, Hisense is the world's fourth-largest LCD TV manufacturer in terms of market share, with Samsung Electronics Co Ltd and LG Electronics Inc from South Korea taking the top two positions and Sony Corp coming in third.
Consequent to the development, the Shanghai listed Hisense' shares rose by 6.38 percent to close at 20.34 yuan ($3.27) on Tuesday.
The acquisition is just one of the many steps that Hisense has made overseas. Till date, the group has seven global research centers and posted a 26 percent growth in overseas business last year.
Lin said in April that the group's overseas business will grow by 40 percent this year and the next two with an ultimate goal of having 50 billion yuan revenue from overseas by 2017.
Like Hisense, other Chinese TV makers are also going global. Shenzhen-based Skyworth Digital Holdings Ltd acquired bankrupt German TV manufacturer Metz Werke GmbH & Co in June for about $8 million. TCL Multimedia Technology Holdings Ltd decided to acquire all the assets of Japanese electronics maker Sanyo Electric Co Ltd's TV factory in Mexico in a deal worth HK$120 million ($15.4 million).
That, however, is in sharp contrast to the waning fortunes of Japanese television makers. Cai Yirun, an analyst with the Guangzhou-based GF Securities Co Ltd, said: "Japanese TV brands have been contracting globally in recent years, and this has provided Chinese firms with lots of opportunities to expand in overseas markets."
According to TrendForce, Japanese brands are facing intense competition from Chinese TV manufacturers, especially in the low-end markets. Japanese brands including Toshiba Corp, Panasonic Corp and Sharp Corp are studying or carrying out plans to exit from the North American TV market. Sharp moved out of the European TV market last year, followed by Toshiba which exited earlier this year.
After bleeding heavily in 2011 and 2012, Sharp lost another 222.3 billion yen ($1.9 billion) in 2014. It lost a further 34 billion yen in the first three months of this year. The decline in the home appliances business unit and severe losses in the solar energy business unit contributed to the company's dismal performance.
Contact the writers at shijing@chinadaily.com.cn and xiechuanjiao@chinadaily.com.cn