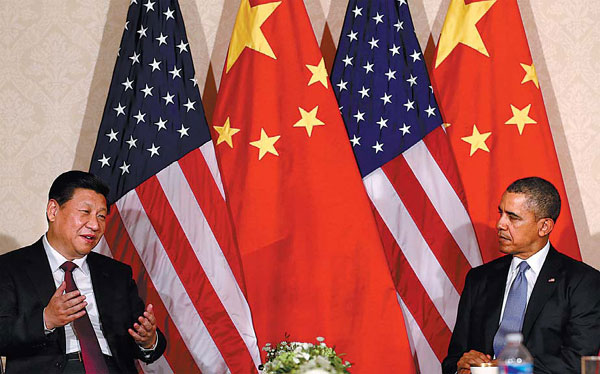 President Xi Jinping meets with his US counterpart Barack Obama on the sidelines of the Nuclear Security Summit in The Hague on March 24, 2014. [Photo/Agencies]
WASHINGTON - Talks on a bilateral investment treaty (BIT) will be high on the agenda during the upcoming annual Strategic and Economic Dialogue (S&ED) between China and the United States in Washington, D.C. and the two sides could seize the opportunity to finalize the deal before US President Barack Obama leaves office in January 2017, US experts said.
The investment treaty talks between China and the US so far are "quite good" and "have gone a lot further than people expected, " Adam Posen, president of Washington-based Peterson Institute for International Economics, in an interview with Xinhua.
The two sides have exchanged initial negative list offers, which outline sectors that are closed to foreign investment, at their latest round of talks in Beijing earlier this month, which ushered in a new phase of bilateral negotiations.
In principle, each side will open all sectors to the other side 's investors except those that are explicitly banned. Given the world's two largest economies have different development levels, national conditions and growth modes, the negative lists exchange would be a challenge to both countries.
"This will be the most challenging BIT negotiation that either country has ever undertaken," US Trade Representative Michael Froman said in April, noting that the US would like to see China keep its negative list short and narrow.
China's Vice Finance Minister Zhu Guangyao said in the same month that China had shortened its negative lists for the pilot free trade zones in Shanghai, Guangdong, Tianjin, and Fujian, but the negative list offers for the BIT talks will be decided through tough bilateral negotiations.
While China's initial negative list offer "may be longer than the US wants," the fact there's a negative list is already "a huge progress," said Posen, who expected the two countries to move forward the investment treaty talks during the two-day high-level S&ED meetings starting Tuesday.
Yukon Huang, a senior associate in the Asia Program of the Carnegie Endowment for International Peace, said the issue of negative list is "probably overemphasized in some ways" as it's so precise and easy to focus on.
"From Chinese side, I think this is still part of the bargain session. They're not going to reveal their automatic intentions without more significant discussions about how it will be handled, " Huang told Xinhua in a separate interview, noting that more flexibility is needed to deal with negative list offers.
Huang said it is necessary to realize that "both sides want to have a BIT," as it will help address a number of investment concerns between the US and China, and investors from both countries will get better access to each other's markets.