China-EU cooperation enters positive new era
Updated: 2014-03-27 21:31
(Xinhua)
Comments
Print
Mail
Large
Medium
Small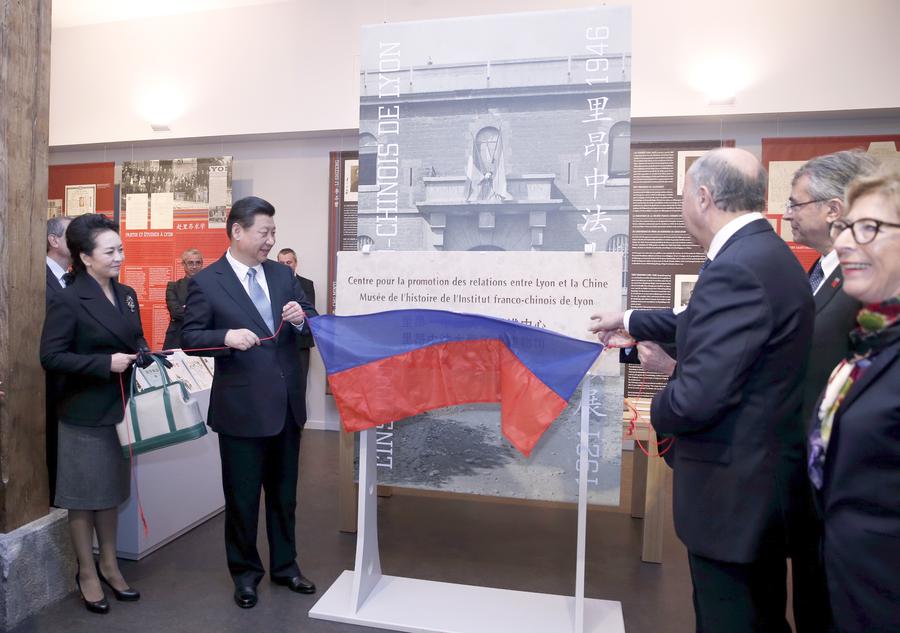 Chinese President Xi Jinping (2nd left), his wife Peng Liyuan (1st L), French Foreign Minister Laurent Fabius (3rd R) and Lyon's mayor Gerard Collomb (2nd R) take part in an unveiling ceremony for the history museum of the Lyon Sino-French Institute in Lyon, France, March 26, 2014. [Photo/Xinhua]
BEIJING -- The increasingly close China-EU diplomatic ties are a hot topic again on the back of Chinese President Xi Jinping's ongoing tour of Europe.
China has left a positive impression on Europeans for its active and constructive role in integrating into the current international economic order.
China-EU cooperation would help both sides lean on each other, share reform dividends and deepen the win-win situation in their respective reform process, overseas analysts said.
They also noted the bilateral ties were enjoying their best period, with a high intensity of exchanges and visits, including last November's EU-China summit in Beijing, Chinese Premier Li Keqiang's visit to Central and Eastern European countries and European leaders' visits to Beijing.
The EU-China strategic partnership could play an important role in moulding a world order, European Council President Herman Van Rompuy told Xinhua in an interview, saying the EU and China were firm supporters of a multilateral world order with the United Nations at its core.
The Wall Street Journal said in a report, "Chinese policymakers seem to understand the world is changing and their economy's standing hinges upon integration rather than isolation."
China has always taken integration as a start, and tried to become a builder and reformer in the world economic order through cooperation.
The EU is China's largest trade partner, with a trade volume topping 500 billion U.S. dollars for three years running. China's trade with the EU edged up 2.1 percent year on year to 559.1 billion U.S. dollars in 2013, Chinese customs data show.
However, their economic and trade relations undoubtedly faced pressure from the need to transform and upgrade after the faniancial crisis, especially in handling trade disputes and transforming to investment from traditional trade.
It is worth noting both sides have recognized the necessity of investment cooperation. Agreement to launch negotiations for an investment deal was reached at the EU-China Summit in February 2012. The negotiations started at the 16th EU-China Summit last November.
"Securing an ambitious investment agreement with China will be an important step, not just for getting better market access and protection for investors, but for strengthening our trade relations with China overall," EU Trade Commissioner Karel De Gucht said in a statement Monday after two-day negotiations in Brussels.
Meanwhile, the end of wine trade disputes in recent days and the concluded solar panel dispute last year demonstrated China's economic transformation efforts as it sought to reduce its reliance on exports.
With China now focusing more on economic quality, the two sides could expand cooperation in such areas as China's urbanization process and investment.
Taking urbanization as an example, analysts said it could stimulate China's potential domestic demand and provide market access for the EU, which wound in return offer ideas, planning, technology, management and experience for China's urbanization.
That kind of bilateral economic and trade ties could be viewed as "a perfect symbiosis," said a director of German Mercator Institute for China Studies.
As the EU and China had faced similar economic challenges to a great extent, Van Rompuy said, the two sides would have a broader perspective in cooperation while achieving their respective growth targets.