50 years of strengthening Sino-French ties
Updated: 2014-03-26 08:32
By Zhou Wa in Beijing and Li Xiang in Paris (China Daily)
Comments
Print
Mail
Large
Medium
Small
China and France should seize the opportunity to expand their half-century-old relationship for future cooperation, said observers as President Xi Jinping pays his first visit to France and other countries in Western Europe since taking office last March.
Xi's visit shows the high importance China places on the country and is expected to set the tone for future China-France ties.
In 1964, France became the first Western country to have full diplomatic relations with China.
Although Sweden, Denmark and Switzerland established diplomatic ties with Beijing in the 1950s soon after New China was founded, France was the first major Western power to forge relations with Beijing at the ambassadorial level.
"Compared with other Western countries, Paris has played a leading role in cooperation with Beijing in different phases of China's development," said Ding Chun, a professor on European studies at Shanghai-based Fudan University.
"Paris's recognition of Beijing in 1964 not only shook up the bipolar order imposed by the US and the Soviet Union during the Cold War but also was a breakthrough in the building of a multipolar world," Ding said.
The leading role is also represented in today's cooperation as France seeks new fields for bilateral cooperation, which demonstrates huge potential for future relations, said Cui Hongjian, director of European studies at the China Institute of International Studies.
"Besides traditional cooperation in nuclear energy and airplanes, China and France are exploiting the possibilities of cooperation in new sectors including bio-sciences, sustainable development, agriculture and food processing," Cui said.
Pierre Morel, former French ambassador to China, says there can be no "business as usual" in Sino-French ties.
"Today we have a multipolar world but we still face the serious challenge of disorder.
"So we have to mobilize better thinking and action to improve the international system, and that's why I think a solid and dynamic Sino-French relationship can contribute a lot to that."
Last year, French President Francois Hollande's visit to China after the new Chinese leadership assumed office was concluded with a series of cooperative deals including a nuclear project and 60 Airbus planes.
"The bilateral relationship is good but its potential is far from fully exploited," says Alice Ekman, China analyst at the French Institute of International Relations.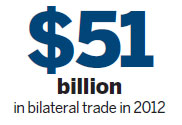 "Regarding economic cooperation, many French companies still hope to expand their presence in the Chinese market.
"At the same time, the internationalization strategy of major Chinese companies remains in its first stages of development in the French market."
Bilateral trade between China and France rose from $13.4 billion in 2003 to $51 billion in 2012, according to the statistics from the Chinese Ministry of Commerce.
"China's new round of reform and opening-up and strategy to boost domestic demands will create a lot of opportunities. European countries including France, Germany and the United Kingdom are all hoping to benefit from it," Cui said.
"Advanced in many high technologies, France can offer experience on development to China," Ding from the Fudan University said.
In 2012 France became the top destination for Chinese investment in Europe as the investment value of Chinese companies accounted for 21 percent of the total amount in Europe, according to the French government's Invest in France Agency.
At the same time, France is politically important for China, said Wu Baiyi, a researcher on European studies with the Chinese Academy of Social Sciences. "France plays a very important role in Europe so China-France ties and cooperation can contribute as an example for China's relations with other European countries," he said.
Contact the writers at zhouwa@chinadaily.com.cn and lixiang@chinadaily.com.cn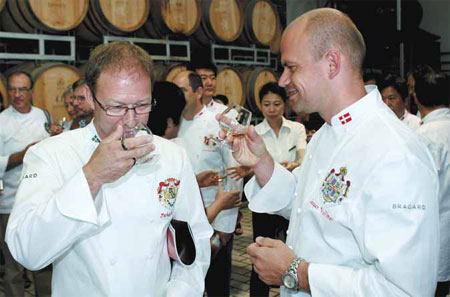 The increasing popularity of wine culture is among the cultural and business ties helping boost the Sino-French relationship. Liu Haifeng / for China Daily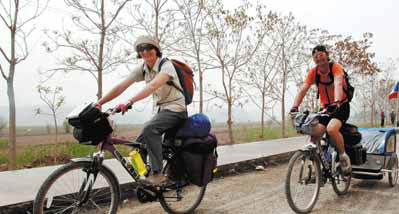 French couple on a cycling trek in the Ningxia Hui autonomous region. Li Ziheng / for China Daily