Chinese president meets Dutch king
Updated: 2014-03-23 10:56
(Xinhua)
Comments
Print
Mail
Large
Medium
Small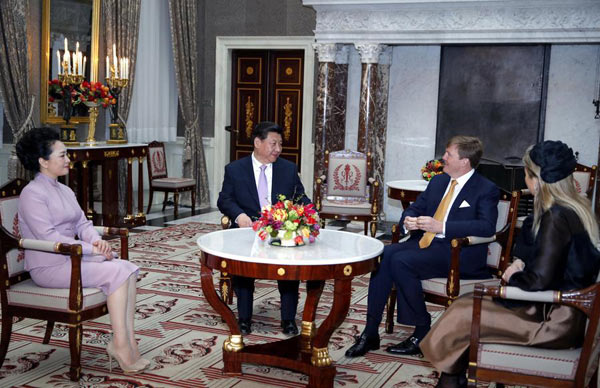 Chinese President Xi Jinping (2nd L) meets with Dutch King Willem-Alexander (2nd R) in Amsterdam, the Netherlands, March 22, 2014. [Photo/Xinhua]
AMSTERDAM - Chinese President Xi Jinping met with Dutch King Willem-Alexander here on Saturday, vowing to further develop ties between the two countries.
Xi arrived here early Saturday for a state visit to the Netherlands, the first one ever made by a Chinese president to the western European country since the establishment of diplomatic ties between the two nations.
King Willem-Alexander spoke highly of the relations between the Netherlands and China. He said the Dutch royal family had friendly exchanges with China over a long period and his mother Beatrix had paid multiple visits to China when she was the queen.
He said the Netherlands is willing to be a good partner of China, and expects bilateral practical cooperation and cultural exchanges to be strengthened. The King believed Xi's visit will further boost Netherlands-China relations.
For his part, Xi said the Netherlands is one of the first western countries to recognize the People's Republic of China and the two countries' cooperation has been at the forefront among China's cooperation with European countries.
The Netherlands has been China's second biggest trading partner in the European Union (EU) for 11 years. It is also China's third largest source of foreign direct investment in the EU.
Meanwhile, China is the biggest trading partner and second largest source of investment for the Netherlands outside the EU.
Xi attributed the cooperation achievements to the diligence, pragmatism and innovation of both the Chinese and Dutch people.
China is deepening its reforms and opening wider to the outside world, which will bring significant opportunities for the Netherlands and the world, Xi said, adding China welcomes the Netherlands to play a role in the process and share development opportunities for common prosperity.