Sowing the seeds of cooperation
Updated: 2014-03-21 08:14
By Fu Jing (China Daily Europe)
Comments
Print
Mail
Large
Medium
Small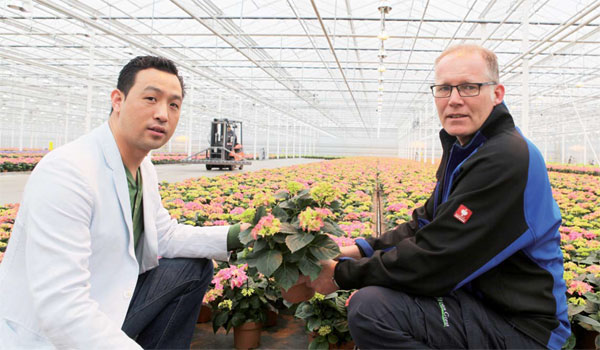 Ye Shihao, deputy general manager of Zhang Qiaozhong's Run Group exchanges ideas with Kees van Geest, director of their Dutch partner company P. van Geest. Fu Jing / China Daily
Entrepreneur wants China to learn from the Netherlands' farming experiences
China must take more steps to promote eco-agriculture and consider it as a conservation and rural development strategy for sustainable gains, says the chairman of Dutch Chinese Chamber of Commerce, who runs a successful agricultural enterprise in the Netherlands.
"I am confident that partnerships with overseas firms will help introduce several modern agricultural techniques and practices in China," says Zhang Qiaozhong, the president of the Run Group based in The Hague, the Netherlands.
The focus of these alliances, however, should be to ensure that the agricultural sector in China develops in a modern, ecological and integrated pattern, says Zhang who hails from Qingtian county in Zhejiang province.
The Run Group has formed alliances with 27 leading agricultural companies from the Netherlands to gain competitive technologies in soil protection, seeding, flower plantations, modern agricultural parks, agriculture finance and logistics.
One of the problems with China's agriculture is that individual households run most of the farms, while local governments own the land. "There is a general perception among farmers that farming is not a profitable business. In addition, many of the fields are infertile due to lack of crop rotation and are heavily polluted due to excessive use of fertilizers and pesticides," Zhang says.
"If we face up to the challenges and are open-minded and flexible, we can turn these disadvantages into strengths. My confidence stems from the lessons, and experiences that I have gained in the Netherlands and also from China's willingness to change."
Likening his passion for agriculture to that of a missionary or a visionary, Zhang says he plans to travel extensively in China to promote the use of modern agricultural techniques. He says that though his mission is fraught with difficulties, he is determined to press ahead. "I have encountered several obstacles on the ground despite backing from policymakers and officials."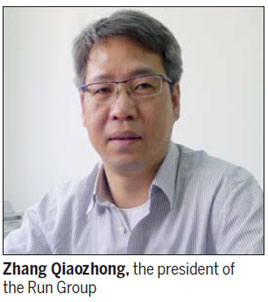 While admitting that changing traditional agricultural concepts is not an easy task, Zhang says it is something that needs to be done. "We must rid ourselves of the notion that farming is an unprofitable business," he says.
In China, farmers earn annual net income of about 1,200 yuan ($194; 140 euros) per mu (0.07 hectare) by planting crops, while using modern techniques would see the profit per mu increase tenfold.
"Our efforts have already started to pay off in some regions. It is only a matter of time before they move to other parts of China also," Zhang says, adding his main focus is now on Jiangsu, Zhejiang, Hunan and Shandong provinces and Beijing.
In Zhejiang province, he has already set up an eco-agricultural park spread over 133 hectares. Last year, Yanqing county in Beijing gave his company 667 hectares of land on lease to develop modern eco-agricultural schemes. However, this project has not taken off, Zhang says, adding that it also shows the difficulties in implementing agriculture reforms.
China must come out with schemes that allow more individual families to own land, especially on the lines of the household land contract system, that was so successful in previous decades. The leadership should also think of creating long chains of agricultural business as they create extra jobs, he says.
"It is also important for China to improve its capacities in modern and eco-farming by integrating planting crops, dairy and meat sector, forests, fishery together in a system," says Zhang. "In fact it should be the starting point."
In some regions of China, Zhang can also spearhead the "leapfrog scheme" that helps farmers to switch from traditional farming to eco-farming. Such an approach also helps farmers to bypass the modern agriculture phase that focuses on improving productivity.
Zhang says China can learn from the Netherlands' experiences in tackling issues such as environmental pollution, over-production, dependency on subsidies, decreasing soil fertility, low farmer income and loss of family farms.
"The Netherlands has corrected most of its mistakes and is one of the global leaders in eco-farming," he says.
Zhang says it is important that Chinese entrepreneurs also start considering agriculture as a lucrative business. "If we change our mindset and think of the huge market that is on offer, I am sure that it will go a long way in helping sustain China's economic miracle through continued prosperity. It is much better than relying on real estate expansion."
Citing an example of how modern techniques can boost yields, Zhang refers to a sample farm that is spread over 667 hectares. "If we set up greenhouses that can boost crop growth on 66.7 hectares of the land, the overall yields from that sample size alone would be much higher than what one would get from the entire 667 hectares using traditional farming methods. It is these kinds of innovative techniques that will help bolster food security in China," Zhang says. He says that the balance of 600 hectares of land can be used for eco-farming to ensure sustainable food production and optimal usage of the ecosystem.
The real benefit of such techniques, Zhang says, is that they can help address China's environmental problems, food security and create more added value and jobs for farmers. Most of the waste generated from agriculture can be converted to electric or heating energy providing valuable solutions to the energy crisis, he says.
Within his eco-agricultural park, he has already incorporated rotation schemes in crop planting, dairy, fisheries and other industries. "These schemes are revolutionary and I am sure will bring more benefits to farmers," he says.
Zhang believes that the greatest advantage of eco-farming is the fact that problems actually end up as solutions. For example, he says it is a headache for most cities to solve the problems of mountains of rubbish and refuse. "I take these as resources as we can burn the waste and generate electricity," he says.
His novel ideas can also help offer solutions to China's overcapacity. For example, he says China's solar panel industry has accumulated tremendous overcapacity due to encouraging policies in previous years. "If the government allows us to build a solar electricity plant and wind farm in China's desert areas, and integrate this energy into the national grid and then allow us to use the same amount of energy in our farms thousands of miles away, we can help solve the overcapacity problem," Zhang says.
"We need to think out of box, especially when it comes to reforms," says Zhang, adding that he will continue to work on bringing more agricultural technology from the Netherlands to China.
Zhang, who spends most of his time shuttling between China and the Netherlands, says that it is his determination and strong passion to do something different that keeps him going. But he admits that it has been a rocky road to success.
Qingtian, a mountainous county in Zhejiang province, is well known in China for the number of people who have crossed the seas in search of better fortunes and also for the people's hard work and business acumen. Many of these skills have been sharpened by the harsh living conditions, says Zhang.
"When I came to the Netherlands in 1993 at the age of 17, I was no different from the others. I too wanted to make my fortune. But I wanted to break away from tradition and do something different," he says.
That looked easier said than done, as some 250,000 people from his county were working in various food-related ventures across the globe then. That number is more than 330,000 now. "I didn't want to end up making food and was more keen on learning something that could help put more food on the plate."
Zhang says that it took nearly 18 years to achieve what he calls his European dream. "I had to supplement my education at the Rotterdam Business School by moonlighting as a waiter or a cook in several restaurants," he says.
"I could not bear the long hours of work in a restaurant," says Zhang in response to questions on why he did not set up his own restaurant chain. He says he had five kids already when he decided to become an agricultural entrepreneur in 2011.
"Prior to that I donned several hats, including running a successful logistics business that I later sold off."
"Hard work, business adaptability and the zeal to succeed have been my assets," he says with a smile when asked about the secret of his success.
Li Xiaofei contributed to this story.
fujing@chinadaily.com.cn