New Zealand to use Boeing 787-9 on China flights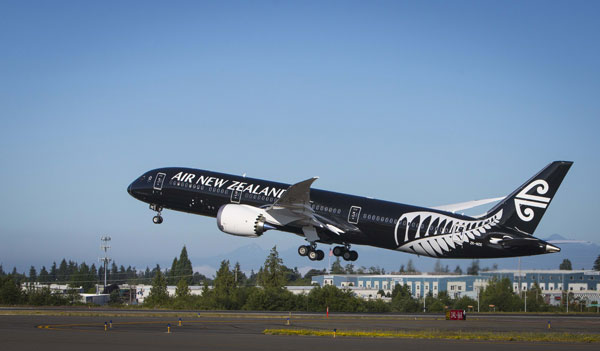 Air New Zealand will use new Boeing 7879 Dreamliners on its daily direct flight between Shanghai and Auckland beginning in December. Photo provided to China Daily
Air New Zealand, the world's first buyer of Boeing 787-9 Dreamliners, chose China to be the newest aircraft's first Asian destination to serve the company's growing market here.
A black aircraft bearing the New Zealand fern and koru - the airline's logo - landed at Pudong International Airport in Shanghai on Nov 5 following its inaugural flight from Auckland, and it will be used on the daily direct Shanghai-to-Auckland service beginning in December.
The carrier will receive 10 Boeing 787-9 jetliners over four years, and the new fleet will cover all the daily flights between Shanghai and Auckland in the next two to three years.
"With tourism arrivals from China to New Zealand continuing to accelerate, Air New Zealand's decision to bring this new aircraft to China is a reflection of the importance of this market to Air New Zealand," said Nick Judd, the airline's general manager in China.
The increasing number of Chinese travelers going to New Zealand provides a solid market base for the airline.
The New Zealand Institute of Economic Research says that 228,000 Chinese travelers visited the country in 2013, and the number is expected to double by 2019.
"The China market continues to evolve at a rapid pace," said Chris Roberts, chief executive of the Tourism Industry Association New Zealand.
He said 100 million Chinese will travel overseas this year, and that number is expected to double to 200 million by 2020.
"We need to keep thinking about who we are targeting in China and in emerging markets because every other destination is also eyeing these big prizes," Roberts said.
China's huge outbound tourism market attracts the entire tourism industry in New Zealand, and as the country's national carrier, Air New Zealand also keeps investing in the China market, besides the new aircraft.
Air New Zealand entered the market in 2006 and operates flights from Shanghai and Hong Kong to 25 domestic destinations in New Zealand.
The carrier trained almost 100 Chinese flight attendants in New Zealand, and 80 percent of the flight attendants on the flights from Shanghai to Auckland are Chinese.
The Chinese flight attendants, who understand both Chinese and New Zealand culture, can provide service to Chinese passengers without language and culture barriers.
The carrier also sponsored the Chinese TV show Dad, Where Are We Going? in 2014 and benefited from the popularity of the show.
"It has generated money ... and awareness of destination New Zealand and is driving sales for Air New Zealand's direct service," said Judd.
wangwen@chinadaily.com.cn