Tourists drawn to New Zealand
Flower blossoms, reality TV shows credited for growing number of visits
Chinese tourists' passion for traveling to New Zealand has been on the rise, especially with the popularity of reality TV shows that have chosen the island country in the Southern Hemisphere as their shooting site.
"In November, the number of tourists choosing New Zealand as their travel destination increased by 50 percent compared with last month," said Yan Xin, a senior manager of the public affairs department of Ctrip, one of China's leading online travel agencies.
"For one thing, it is lupine blooming season in November and December in the country, and for another, domestic reality TV shows have promoted the country as an ideal travel destination for Chinese tourists, such as Hunan TV's Dad, Where Are We Going?"
The New Zealand Tourism Board said that China has become the fastest growing source of tourists in recent years. About 240,000 Chinese went to New Zealand from March 2013 to March 2014, registering a year-on-year growth of 14 percent.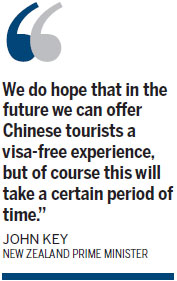 Tourists from Guangdong province made up an important part of the total.
Every year, more than 2 million international tourists come to New Zealand.
New Zealand Prime Minister John Key, speaking with Chinese netizens during an online event on Tuesday sponsored by Xinanet., said that of that number, over 1 million come from Australia, while about 200,000 are from China, making China an important source market of tourists in New Zealand.
Last year, China became the second-largest source of tourists for New Zealand. "The annual growth rate of Chinese tourists to New Zealand remains above 30 percent," Key said.
Support from Chinese airlines companies is an important factor in the increase of Chinese travelers to the island country.
China Southern Airlines launched the direct flight from Guangzhou in Southern China to Auckland in 2011. Air New Zealand has direct flight from Shanghai to Auckland.
China Eastern Airlines will also start the direct route from Shanghai to Auckland on Dec 9. From Oct 26 this year, China Southern increased its direct flights from Guangzhou to Auckland from one to two every day, probably in part because the last episode of Season 2 of Dad, Where Are We Going?, which was shot in New Zealand, was broadcast in early October.
Yan, of Ctrip, said, "Ctrip's travel routes now include the shooting locations of Dad, Where Are We Going? such as Maori Village and Hobbiton, which are good choices for tourists who travel with their kids."
He also said that after the broadcast of the reality show, the proportion of tourists bringing kids on their trips increased.
In terms of the visa issuance policy, Key said that New Zealand officials are working now to accelerate the process of issuing visas and to increase the number of visas issued to Chinese tourists.
"We do hope that in the future we can offer Chinese tourists a visa-free experience, but of course this will take a certain period of time," Key said in the online interaction.
Since May 1, 2013, New Zealand has extended the period of validity of a multiple-entry visa to Chinese tourists from 12 to 24 months, making it more convenient for Chinese travelers to go to New Zealand.
Yan said that considering the growing popularity of New Zealand in Chinese tourists' eyes, Ctrip will provide more diverse routes for Chinese travelers to make them have a more local experience in both sightseeing and catering.
huangying@chinadaily.com.cn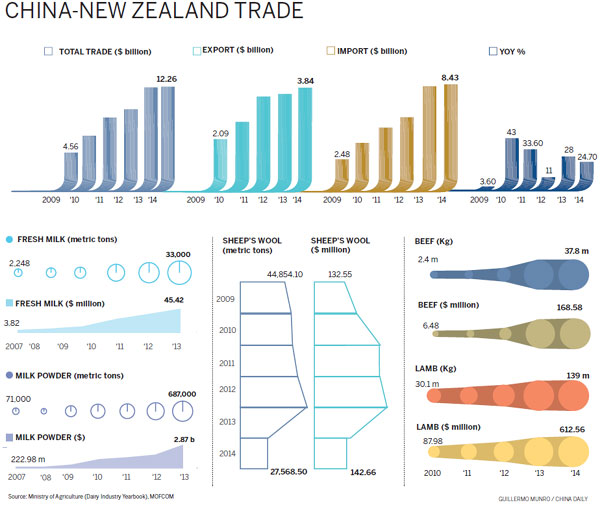 (China Daily 11/21/2014 page2)