Groundbreaking cancer project has helped thousands of patients
An innovative breast cancer database established by a Chinese woman in Australia has helped thousands of patients over the past 17 years.
The program enables doctors to ensure they are giving the most effective treatment and improve the outcomes for patients.
Zhang Yanping signed a one-year contract with the Canberra-based Breast Cancer Treatment Group to build a database containing information about patients in the Australian Capital Territory when she moved to the city with her husband and daughter in 1997.
"When I walked into my office there was only one piece of blank paper lying on the desk," the former central government official from Beijing said.
"My boss told me, 'That is all we've got.' I had to literally start from scratch, but somehow I was very confident."
Every day, at least 37 Australian women are diagnosed with breast cancer, according to a report released in Nov 2012 by the Institute of Health and Welfare and Cancer Australia. The region where Zhang works has the highest rate of the disease nationwide.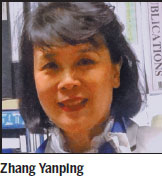 In 1995, the Australian government published national guidelines for the management of early breast cancer to standardize treatment. Zhang's task was to collect information from local doctors and patients and determine whether the treatment given followed the guidelines.
No one, not even Zhang, could predict how the voluntary database initiative, the first of its kind in Australia, would develop, or that it would still be running all these years later.
"It wasn't easy," she said. "I had to convince the doctors, one after another, to take time out and ask their patients to participate in our program. It is amazing we have done it for 17 years."
She has enrolled 250 clinicians and 900 general practitioners in and around the capital district, and more than 5,000 cancer patients - all the surgeons in the region and 96 percent of the known patients.
She has kept the data flowing by offering each doctor regular personalized reports. The free reports are highly confidential and tell the doctors how well they are doing compared with their peers in the program.
They show the doctors the treatment success and mortality rates for all their patients, even after they change doctors or move away.
"Most doctors do not have time to track all their patients, but my database can," said Zhang. "And it goes back 17 years."
Paul Craft, a leading oncologist, told the Canberra Times, "Yanping has provided amazing zeal and enthusiasm over a long time, and helped keep all of us enthusiastic about the project, while also allowing us to identify trends in treatment and improve our outcomes."
Zhang gave up a promising career in a central bureau under the State Council of China to support her husband and keep the family together when he was given an opportunity to move to the United Kingdom.
The couple went there with their 4-year-old daughter in 1988. From then on, wherever her husband went, Zhang would follow. They have lived and worked in Cambridge, England, Hawaii, Sydney, Australia, and finally, Canberra.
chenmengwei@chinadaily.com.cn
(China Daily 11/20/2014 page2)