Tasmania rolls out the red carpet
Restaurants in Australian state quick to work up an appetite for president's visit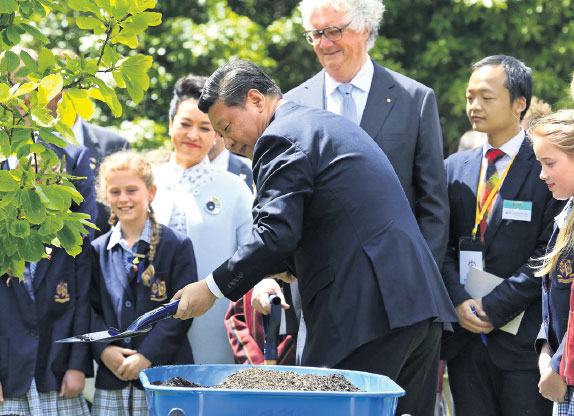 President Xi Jinping takes part in a tree planting ceremony as his wife, Peng Liyuan, Tasmania state Lieutenant Governor Alan Blow (center right) and students look on, at Government House during Xi's visit to Hobart on Tuesday. Xi is visiting the Australia state of Tasmania after attending the G20 Summit in Brisbane over the weekend. [Photo/Agencies]
Tasmania spared no effort in welcoming President Xi Jinping on Tuesday. Chinese flags fluttered along his motorcade route from the airport to Government House, and many restaurants in Hobart, the Australian state's capital, printed their menus in Chinese to mark the occasion.
At the airport, Xi and first lady Peng Liyuanwere greeted by primary schoolchildren chanting "hello" and "welcome" in Chinese.
The pupils presented the president with a lavender-colored koala and peonies.
Local newspaper The Mercury carried the splash headline "Welcome Mr President" and above it Chinese characters stating, "Welcome President Xi Jinping on your visit to Tasmania".
Xi had formed a friendship with the late Jim Bacon, former Tasmanian premier and a regular visitor to China since his university days.
In 2001, Xi, the then-governor of Fujian province, and Bacon signed a joint statement marking the 20th anniversary of the sister-state relationship between Fujian and Tasmania. Xi also granted Bacon honorary citizenship of Fujian province.
"I received Mr Bacon's invitation to visit Tasmania at that time. Now I have lived up to my promise through the visit," the president said, highlighting Bacon's work in promoting cooperation between China and Tasmania and also with Australia.
Bacon's widow, Honey, who is a member of the Australia-China Friendship Association, presented Xi with an oil picture she had painted, showcasing Tasmania's natural scenery.
The island state, known for its agricultural produce such as high-quality lamb, is Australia's biggest producer of potatoes, apples and cherries.
China began importing Tasmanian cherries in 2013, taking in about 160 metric tons of the fruit.
Tim Reid, manager of Reid Fruits, is hoping that his cherry exports will increase significantly after Xi's visit, the first to Tasmania by a Chinese president.
"Everybody here is very excited about the visit. It is one of the biggest things to happen in Tasmania for many years," Reid told China Daily.
However, cherries were not served at a lunch given for Xi, as they are not harvested in Tasmania until January. "Tasmanian cherries ripen at the perfect time for Chinese New Year and are very popular gifts," Reid said.
But other traditional Tasmanian fare, including lamb and apple juice, was on the menu, The Mercury reported.
Matthew Groom, minister for state growth, told China Daily: "We've never had a Chinese president visit the state before. There is a great deal of excitement here."
He said the visit also coincides with the TasInvest summit. Many representatives from Chinese companies are visiting Tasmania to explore investment opportunities in agriculture, aquaculture, mining and tourism.
Contact the writers at wujiao@chinadaily.com.cn and mojingxi@chinadaily.com.cn