Councilor serves as a voice for nation's Chinese-Australians
The top priority for Jeanette Wang, serving a second term as a member of Ashfield Council in New South Wales, is to act as a bridge between the Chinese community and mainstream Australian society.
Since being elected in 2008, she has done her utmost to make the voice of the Chinese community heard.
"It's my responsibility to bring the concerns and demands of the local Chinese community to the attention of the local and state government," she said.
According to Wang, as China becomes economically stronger, Chinese-Australians are gaining in self-confidence.
Like their counterparts in other Western countries, more of them are willing to enter politics to help Chinese-Australians be better understood and accepted.
"The scope of my work has become much broader," Wang said. A well-known public figure in Sydney, she plays a leading role in several social groups and regularly organizes performances aimed at promoting Chinese culture in Australia.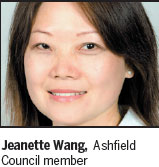 Wang, founding president of the Australia Yangzhou Association, has initiated several reciprocal visits between politicians and entrepreneurs in Australia and China.
Compared with 10 years ago, Chinese communities now pay more attention to both pro-and anti-China voices in mainstream society and are always ready with a quick response, she said.
These communities, especially those with origins on the Chinese mainland, are more confident of safeguarding the interests of their own and their ancestral country, she adds.
In recent years, Wang has played an active role in safe-guarding the rights and interests of Chinese-Australians.
When Clive Palmer, a mining tycoon and federal member of Parliament, criticized Chinese people and the Chinese government on a TV program in August 2014, Wang organized protests by Chinese-Australian groups against his remarks, forcing him to apologize.
When Australian Attorney General George Brandis proposed changes to a section of the Racial Discrimination Act this year, Wang protested on be half of the Chinese community, believing that the section as written protects ethnic communities in Australia.
"We launched a petition in Ashfield that collected 1,000 signatures from supporters and presented it to the New South Wales parliament. This has served as an important part of the national campaign to keep the law intact," Wang said.
wanghui@chinadaily.com.cn
(China Daily 11/19/2014 page3)