Cultural bridge by Confucius Institute
As China rises, so has need for wide range of Mandarin
With China's rising economic and political clout, a "China zeal" has swept many countries in recent years, and Australia is no exception.
With interest soaring, the Confucius Institute at the University of Melbourne has helped as a cultural ambassador.
"Since its establishment, the institute has been dedicated to promoting the Chinese language and culture in Australia at all levels as well as providing excellent education for those in the general public with an interest in Chinese language and culture," said Julia Gong, director of the institute.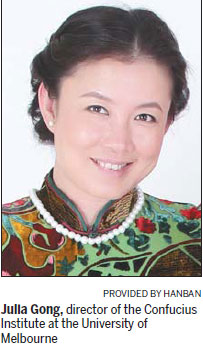 Her own experience illustrates the rising trend.
"I started as a teacher here in 2007 and taught only one class with four students," Gong recalled. "Now we run three classes a night, Monday to Thursday. Our students are businesspeople and government officials who come to learn Chinese after work."
She said the institute has also designed and delivered courses to address special needs, for example diplomatic Chinese for a new ambassador to China in 2015, a Spring Festival breakfast series for the tourism industry and business Chinese in the city's financial district.
The institute's strong expertise and links with mainstream society have enabled it to deliver services and training to government organizations, corporations and professionals.
"Our advanced business courses and training are quite popular among Australian companies that want to do business in China, and for Chinese companies and executives wanting to do business in Australia. All this has helped enhance business and trade relations between the state of Victoria and China," said Gong.
Business-oriented programs focus on enhancing the business community's understanding of China by providing cross-cultural training on the rapidly changing economic, political, regulatory and social environment in China.
According to Gong, the institute has long-term links with a variety of industries including aviation, education, law, banking and government. Melbourne Airport, a major client of the institute, has sent a number of its employees, both at the operational and management level, to take instruction on language and cultural awareness.
"The Chinese market is one of our most important long-haul markets in passengers and growth. It's very important that our staff understand not only the language but some of the cultural nuances for passengers as they pass through our terminals," said Damian Tkalec, Chinese advisor to the CEO and strategic manager at the airport.
The institute is now partnered with Asialink Business, an active player in improving Australia's engagement with Asia, to revise the business culture course offered in 2015, Gong said.
"The institute has also played an important role in supporting schools in Victoria in their Chinese language and culture programs as well as exchange programs," she said.
In 2010, it partnered with the Victoria department of education and has since established Confucius classrooms at nine schools across the state. On Nov 14 the partnership was extended for another five years.
Supported by Hanban, the Confucius Institute's headquarters, it also organizes a tour to China each year for Australian elementary and middle school principals.
In October, an international forum on developing 21st century students was held in Beijing during the visit. Also attended by the Chaoyang district education commission, the forum hosted around 60 school principals from Australia and China.
"Such initiatives enhance education exchanges between the two countries. The institute is involved in the establishment of over 100 sister school partnerships between the two countries in the past five years," said Gong.
It was honored as the Confucius Institute of the Year in 2013 for its contribution to understanding between Australia and China.
wanghui@chinadaily.com.cn