Li charms dock workers in Greece
Premier mingles with 'impressed' laborers and technicians during visit to Piraeus Port, a gateway to Europe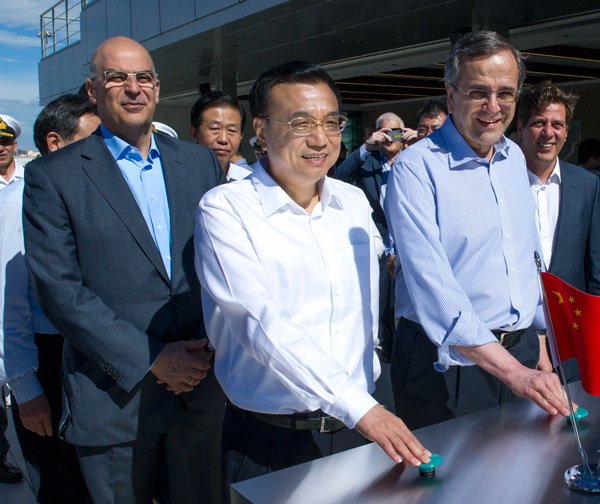 Premier Li Keqiang and Greek Prime Minister Antonis Samaras participate in the inauguration of a train line for containers at the port of Piraeus on Friday. [Photo/Xinhua]
Images of Premier Li Keqiang surrounded by grassroots workers are familiar to Chinese people. Face-to-face communication and interaction with people in the field has become his signature.
But on Friday, the premier launched a charm offensive toward the Greek people at Piraeus, a seaport thousands of miles from home.
China's transportation giant COSCO Group, the fifth-largest container terminal operator in the world, won a 35-year concession to expand two main container terminals at the port in 2008.
Under a scorching sun, Li, wearing a white shirt, walked close to dozens of Greek port workers, including dispatchers and technicians, against a backdrop of giant tower cranes and mountains of steel boxes.
He shook hands with many workers and talked to a few through an interpreter — exchanges broadcast live by local television.
While posing for a group photo session among the workers, together with Greek Prime Minister Antonis Samaras, the premier put on a yellow helmet, to applause and smiles.
Dimitris Kalogrios, one of the workers, said it was an honor for him to meet Li, as it had been rare for any foreign leader to rub shoulders with local workers.
"I am impressed by his interest in the Greek port and investment in Greece," he said.
The premier did not hide his ambition to turn Greece into a more functional gateway to Europe for China. Calling Piraeus "a pearl port" in the Mediterranean Sea, Li pledged to join efforts with Greece to build it into one of the most competitive ports in Europe, and even in the world.
Under COSCO, the port's annual cargo handling capacity over the past seven years has tripled to reach 2.52 million 20-foot-equivalent container units in 2013, creating more than 1,000 jobs for local people.
He said the port signifies "the present vitality as well as bright future" of Chinese-Greek cooperation.
Li expressed hope that the port can help facilitate the export of Chinese products to Europe, China's biggest trade partner.
Currently, most of China's goods exported to West Europe have to be transported through the Suez Canal, which consumes time and money.
The transit of goods from the port to central and western Europe through connecting railways is expected to shorten transport time by seven to 11 days.
Samaras, the prime minister, said he expected bilateral cooperation to help consolidate Greece's strategic position for international trade.
He traveled to China last month to tout his country, which is now on the path to recovery, as an attractive entry point for Chinese investment into the European Union.
Greece boasts one of the world's largest shipping sectors, making up more than 16 percent of the global fleet and nearly half of the tonnage carried by European vessels.
About 60 percent of China's imported crude oil and half of its imported bulk commodities are transported by the Greek fleet, generating revenues of $2 billion annually.
In their brief speeches, both Li and Samaras suggested that Greece and China should expand their strategic cooperation to more sectors, including shipbuilding, ship maintenance and marine equipment.
China, the world's biggest shipbuilder, has been the main beneficiary of a building drive by Greece's merchant shipping sector. It currently has 192 orders from Greek companies, according to UK-based sector observer Fairplay.
xingzhigang@chinadaily.com.cn