Yuan-denominated green bond debuts in London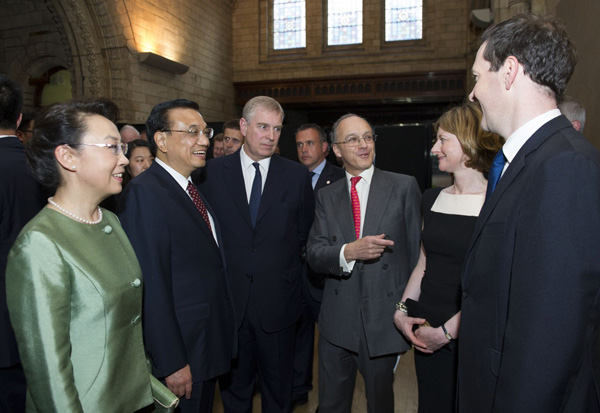 Premier Li Keqiang and his wife, Cheng Hong, attend a banquet hosted by the China-Britain Business Council at the Natural History Museum in London on Tuesday. Huang Jingwen / Xinhua
The first-ever yuan-denominated green bond was issued on Tuesday by International Finance Corp in London, marking a further step forward in the internationalization of China's currency.
The three-year bond raised 500 million yuan ($80.3 million) and was priced at a yield of 2 percent. HSBC acted as sole lead manager on the deal.
The bond is listed on the London Stock Exchange. Criteria for the use of IFC green bond proceeds are certified by Cicero, an independent research center associated with the University of Oslo.
Green bonds are designed to raise funds for environmentally friendly purposes. Proceeds from Tuesday's bond will be used to provide funding for projects related to renewable energy and energy efficiency across developing economies.
According to the IFC, the bond attracted interest from investors in Europe and Asia.
"Up until last year, you would only see green bonds in dollars, but as more issuers are adopting green-bond initiatives, you start to see that tie in with interest from investors in other jurisdictions," said Benjamin Powell, IFC's head of funding.
He said that an increasing number of funds with yuan-asset allocations are now establishing a socially responsible investment focus, and IFC's yuan green bond is an attempt to meet both the growth of SRI investments and yuan activities internationally.
Powell said, "We support the internationalization of the yuan in London."
Chris Jones, global head of local currency syndicate at HSBC, said one benefit of having the bond listed on the London Stock Exchange is that it will be available to be traded by the international investor base in its own time zone.
Listing a bond on a recognized exchange, such as the London Stock Exchange, ensures that the respective asset meets eligibility criteria under the Undertakings for Collective Investment in Transferable Securities, and it can then be considered for investment by a broader base of investors.
Jones said the yuan-denominated green bond issued by IFC will have proceeds put into a segregated account to ensure compliance with green bond criteria relating to use of proceeds.
He said the internationalization of the yuan and the development of the green bond asset class are two key drivers for HSBC, and they have worked hard with IFC to bring the inaugural offshore yuan bond to market.
"We promise that we will maximize distribution into the SRI-focused accounts, and we check investors' SRI credentials," he said.
cecily.liu@chinadaily.com.cn