China's envoy to Greece finds a strong friendship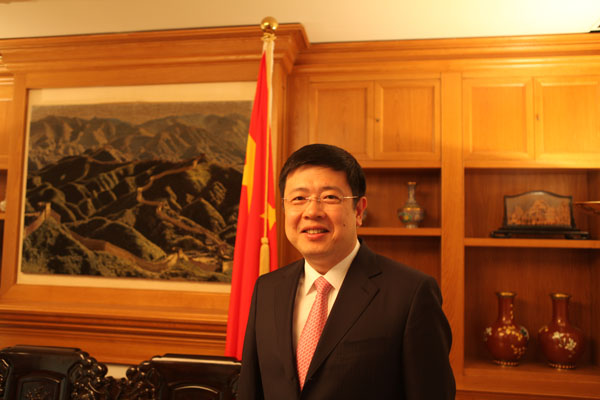 China's ambassador to Greece Zou Xiaoli [Photo by Fu Jing/chinadaily.com.cn]
Five months ago, as Zou Xiaoli prepared to board a flight to Athens, where he was to take up his post as China's ambassador to Greece, he received a phone call from Vassilios Costis, his Greek counterpart in Beijing.
Bidding Zou farewell, Costis said: "Please feel at home when you are working in Greece, and very soon you will make many good friends."
Costis' words have proven correct. Since January, Zou, has received many Greeks at his official residence in Athens, and his guests have included Greek President Karolos Papoulias and Prime Minister Antonis Samaras.
Even when he is out walking or shopping, Zou said, Greeks often greet him with a "Ni hao" ("hello" in Mandarin).
"All of this has really helped me feel at home, and you can sense the lasting friendship between China and Greece everywhere," Zou said in an interview with China Daily before Premier Li Keqiang's three-day visit to Greece from June 19.
On Li's trip, a return visit for Samaras's visit to China last year, shortly after Li took office as premier, both sides will consolidate the close relationship by boosting growth and development, Zou says.
This is Li's third trip to Europe since becoming premier in March last year. Last May he visited Germany and Switzerland and last November he visited Romania. Greece is the fifth European country for Li during his premiership after his tour in UK this time.
This arrangement indicates how high Greece is on China's agenda in foreign relations, Zou said. Li is expected to deliver the message that China will support Greece as it grapples with economic problems and is willing to join it in pushing for growth in areas such as trade.
In addition, in matters of culture China would like to engage with Greece, a country that has had a "profound influence" on European and world history, Zou said. "We also attach great importance to Greece's role in the European Union and in the Mediterranean region, and want to work with it to maintain regional peace and stability."
Zou said Li's visit comes at a critical time for Greece's economic recovery, as China has begun to deepen reform and opening up, and at a time of rapid and complex change not only in Europe but worldwide.
"Li will be exchanging ideas with Greek leaders on such issues and bring cooperation in different fields to a new level. This will be a landmark event for bilateral relations,"he said.
Li's visit to Britain and Greece follows President Xi Jinping's visit to the Netherlands, France, Germany and Belgium in March and early April. During Xi's visit, he proposed to forge a Sino-EU partnership in pursuit of peace, growth, reform and civilization.
"President Xi's visit was a great success," Zou said, and Li's visit will contribute to the partnerships between China and Greece and Britain.
Zou, speaking of the many European leaders who have visited China this year, said: "It is rare to see such a high frequency of mutual exchange. I think the momentum will continue in the second half of the year."
Both China and Greece have "new strategic visions", areas of shared interest are increasing, interdependence is growing and the desire to work together has strengthened, he said, adding that "both sides will have an even bigger impact on the reshaping of world."
Zou said he hopes Greece's economic recovery will quicken, noting that Greeks have paid a huge cost in the global financial crisis.
Since 2010, the Greek government has begun structural reforms to reduce the country's hefty indebtedness, Zou said, adding that "the progress the country has made with reform is recognized around the world."
Last year, Greece's current account registered a surplus for the first time since 1948, when records were first kept. Also last year, its fiscal balance went into surplus. International ratings agencies have raised its sovereign credit rating and in April the country was back in the global financial market.
"The country's most important sectors, tourism and shipping, are performing very well, and foreign investors are now more confident," Zou said.
China, in helping Greece in the crisis, has bolstered the stability of the euro zone, he said. "We have also offered support to Greece through bilateral and multilateral channels. Greece and its people have treated us as friends indeed.''
Zou said Greece is an important gateway for China's capital and goods entering Europe. In addition, Greece is a conduit for increased trust between China and Europe. Greece can provide a springboard for China to expand its presence in the Middle East and North Africa, he said.
To that end, he hopes China and Greece will collaborate more on maritime matters."As ambassador to Greece, I have been given the opportunity to get closer to the sea. I have gradually realized that Sino-Greek cooperation depends heavily on our efforts at sea,"Zou said.
Greek ship owners have transported goods for China from more than 50 years ago even when there were no diplomatic relations, he said. In 2011, when war broke out in Libya, Greece helped China evacuate Chinese workers from the country. Chinese navy ships in the Gulf of Aden have gone to the aid of Greek ships attacked by pirates, he said. "This lasting friendship at sea has laid a solid foundation for us to work more closely together."
Both sides have make rapid progress in maritime cooperation, Zou said.
In addition to COSCO's successful operation in Piraeus, China has set up a fund of $5 billion (3.7 billion euros) to support both sides in increasing collaboration in building and repairing ships.
China is strong in equipment manufacturing, oceanic research and is well off financially, and Greece enjoys geographical and technical advantages and is advanced in maritime legal standards, Zou said. During Li's visit, both sides will organize a forum on maritime cooperation.
"I think Li will endorse the efforts being made in that area," he said.