Chinese premier vows to combat poaching, ivory smuggling
Updated: 2014-05-11 03:06
(Xinhua)
Comments
Print
Mail
Large
Medium
Small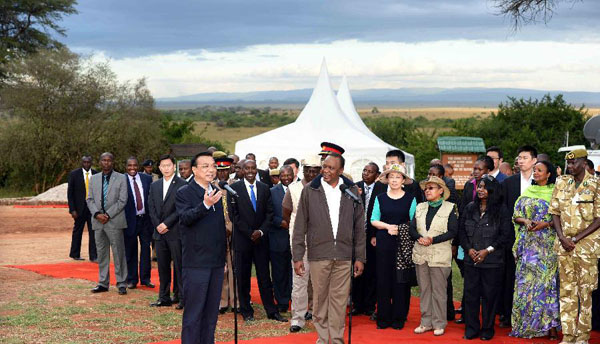 Chinese Premier Li Keqiang speaks during an visit to the Ivory Burning Site Monument in the Nairobi National Park with Kenyan President Uhuru Kenyatta, May 10, 2014. [Photo/Xinhua]
NAIROBI - Visiting Chinese Premier Li Keqiang said here Saturday that China is strongly committed to protecting wildlife and will spare no effort in combating poaching and ivory smuggling.
The premier made the remarks to Chinese and foreign journalists after visiting the Ivory Burning Site Monument in the Nairobi National Park with Kenyan President Uhuru Kenyatta.
In 1989, then Kenyan President Daniel Arap Moi burned 25 tons of ivory and other hunting trophies in the park. To mark the incineration, the Kenyan government reserved the burning site and set up a monument.
China highly appreciates and respects Kenya's hardworking effort and remarkable achievement in wildlife protection, Li said, adding China shares Kenya's considerable emphasis on the issue.
"Our visit to the monument together shows that the two sides are cooperating in good faith to jointly combat poaching and ivory smuggling, and protect wildlife," the Chinese leader said.
It also indicated that the Chinese government is determined to provide any assistance within its capabilities to help Kenya build the capacity to protect wildlife, he added.
Li said that as a signatory to the UN Convention on International Trade in Endangered Species of Wild Fauna and Flora, China has always abode by the pact.
To counter the rising global ivory smuggling and illegal trade over recent years, he said, China has been taking a series of legal actions and creating inter-agency action mechanism to fight against the crime.
Earlier this year, China destroyed 6.1 tons of confiscated ivory, and will continue to strengthen cooperation with Kenya and other countries on ecological and wildlife protection, Li said.
China will promote such a concept in the world -- protecting wildlife is to safeguard our common homeland, and protecting biological diversity is to ensure the colorfulness of the Earth, he said.
For his part, Kenyatta appreciated China's resolution in wildlife protection, and expressed gratitude for China's support to Kenya and Africa at large in that regard.
The Kenyan president added that he hopes to further strengthen cooperation with China on ecological and wildlife protection.