China seeks to balance trade: premier says in Kenya
Updated: 2014-05-10 21:25
By Zhao Yinan in Nairobi, Kenya and Li Xiaokun in Beijing (China Daily)
Comments
Print
Mail
Large
Medium
Small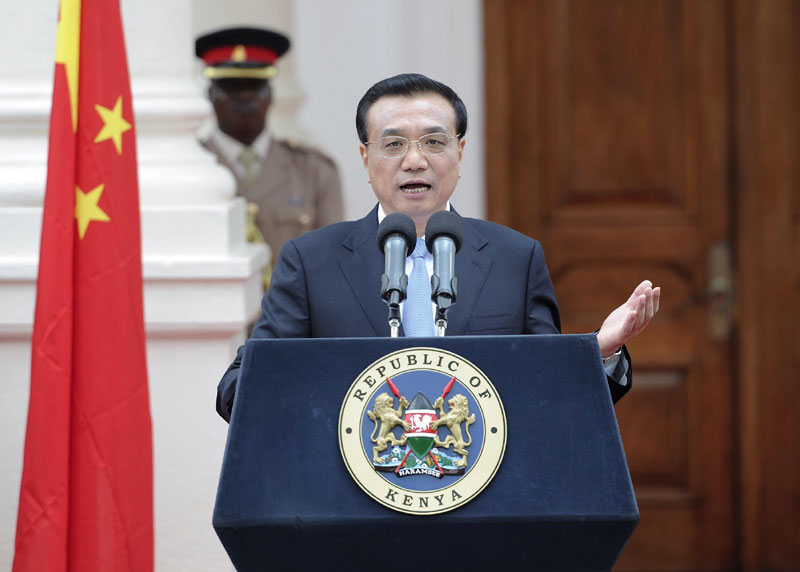 Premier Li Keqiang gives a speech at a joint press conference in Nairobi, capital of Kenya, on May 10, 2014. [Photo/Xinhua]
Li signs basket of agreements with African nation during visit
China will take measures to balance its trade with other countries since excessive foreign exchange reserves have become a big burden for Beijing, Premier Li Keqiang said on Saturday.

Li made the remarks when meeting reporters in Kenya's capital Nairobi after talks with the country's President Uhuru Kenyatta at the president's residence.

"We do not pursue a trade imbalance with Kenya — quite the opposite," Li said when asked about Kenya's trade deficit with China.
"We'll take measures to balance the trade."
China's foreign exchange reserves hit $3.95 trillion at the end of March, according to the People's Bank of China. That was $130 billion more than at the end of 2013.
China is now the world's largest holder of foreign exchange reserves. Its reserves account for one-third of the world's total and are three times that of the second largest holder, Japan.
"An overall trade imbalance will present quite a big problem for China's sustainable development," Li said.
He added that it will challenge the country's efforts to curb inflation if excessive reserves are changed to yuan.
However, inflation is currently low, and the market decides trade.
Still, Beijing will take measures to change it.
In dealing with Kenya, Li said, China will facilitate the entry of Kenyan products into the Chinese market; encourage Chinese investment in Kenya's manufacturing sector to enhance local enterprises' competitiveness; and continue constructing industrial parks in the East African nation.
Li and Kenyatta on Saturday officiated during the signing of a basket of cooperation documents, covering areas including infrastructure, finance and environmental protection.
Under the agreements, China will donate materials used for wildlife conservation to Kenya and assist forest and ecological protection.
China will offer interest-free loans and concessional loans to Kenya, although the exact number was not released.
China also signed a memorandum on aviation cooperation in Kenya and eastern Africa at large, as well as on an upgrade of the Mombasa port.
Kenyatta told media Kenya appreciates Beijing's support in combating the ivory trade and protecting Kenya's natural heritage — a point enshrined in a newly signed document he said bears great significance.
Li said China has included wildlife protection on the list of the major fields in which it will assist Africa. He promised the country will spend $10 million on relevant projects in that area in coming years.
A cross section of Kenya's green advocates unanimously agreed Li's visit heralds new opportunities for the African country's environment, economy and sustainability.