Libya faces uncertainties in reconstruction
Updated: 2011-12-18 17:09
(Xinhua)
| | | | | | | | | | | |
| --- | --- | --- | --- | --- | --- | --- | --- | --- | --- | --- |
|   | | Comments() | | Print | | Mail | | Large Medium  Small | 分享按钮 | 0 |
CAIRO - After seven months of civil war, the Libyan people finally saw the establishment of a transitional government which is tasked with brokering national reconciliation and restoring economic and security order. However, given the conflicts among different political groups and the ravaged oil facilities that produced much of the country's wealth before the turmoil, the Libyans were far from unity to rebuild their war-torn motherland.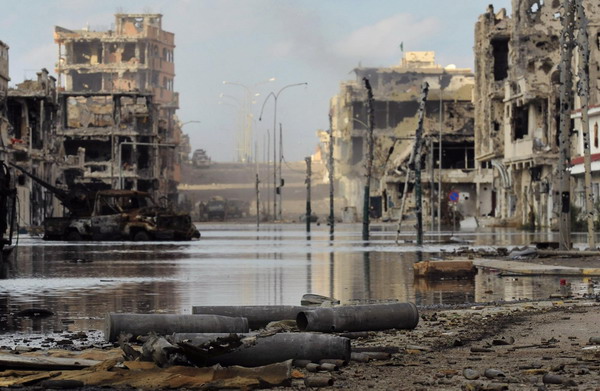 A view of the street after a violent clashes between Libyan interim government forces and loyalists of Muammar Gaddafi in Sirte in this October 18, 2011 file photo. [Photo/Agencies]
Political rebuilding
On November 21, interim Prime Minister Abdurrahim Keeb, a professor of electrical engineering, managed to bridge differences among political groups and established the transitional government.
Living abroad for about 20 years, the technocratic prime minister found national solidarity hard-won, since some members of the National Transitional Council protested against him outside his office when his cabinet was sworn in.
Former Oil and Economy Minister Ali Tarhouni rejected an offer to join Keeb's cabinet, as he said that those in power were not representatives of the Libyans. He accused them of being "supported from the outside by money and arms."
"The voices that we see now are the voices of the elites," he told reporters at a press conference several hours after Keeb announced his cabinet lineup, adding that more than 90 percent of Libyans were not represented by this new leadership.
"Although Keeb has successfully reached a consensus among different powers, it is just a temporary one," Libyan analyst Mohammed Mahmoud told Xinhua.
"It is very fragile and need to be consistently taking care of. Those who claimed not to be represented may form coalitions in the coming elections. If Keeb fails to reconcile with them, the new-born Libya may face deeper divisions," he said.
When Libyans are celebrating their victory, Western countries who provided direct military assistance wanted their efforts to be paid back which may bring divisions among political groups in the North African country.
"After Gadhafi was killed, there is a fierce competition among big powers for the cake in Libya. Countries like the United States, France, Britain, Russia and Turkey, etc, are competing to gain Libya's wealth," Akram Hossum, an expert with Cairo-based National Center for Middle East Studies, told Xinhua.
"All these countries want to play active roles in the rebuilding of Libya. Their contradictory agendas, in my appreciation, are the main obstacles facing by the new-born Libya government," Hossum said.
Moreover, the Libyan people have not reached a consensus on an Islamic or a secular government, let alone a general agreement on the political system, he added.
What was even worse, there are tens of thousands light weapons like rifles and pistols missing during the war, which could further threaten its nascent government as it could not handle security without help of NATO.