Greek troubles hanging over Cannes summit
Updated: 2011-11-04 08:32
By Zhang Haizhou and Zhang Chunyan (China Daily)
| | | | | | | | | | | |
| --- | --- | --- | --- | --- | --- | --- | --- | --- | --- | --- |
|   | | Comments() | | Print | | Mail | | Large Medium  Small | 分享按钮 | 0 |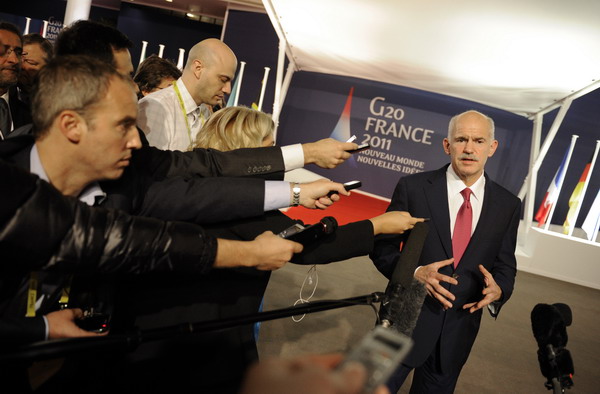 Greek Prime Minister George Papandreou speaks during a news conference in Cannes, France, on Wednesday, on the eve of the G20 summit. [Photo by Lionel Bonaventure/Agence France-Presse]
CANNES, France - Greece's debt troubles have become the topic that is dominating the G20 summit that opened here on Thursday, even though the Greek prime minister has stepped back from holding a referendum on a rescue plan proposed by the European Union.
EU leaders at the summit were meanwhile preparing for the possibility that the Mediterranean country would leave the eurozone, the collective name for 17 countries that use the euro as their primary currency.
This week, Greek Prime Minister George Papandreou proposed calling a national referendum on whether Athens would accept an EU offer meant to bail the country out of its debt troubles.
Led by Germany and France, European officials have said they will not provide financial aid to Greece if Greek voters decide in a referendum that their country should not adopt the austerity measures that the EU is insisting on.
"The referendum ... in essence is about nothing else but the question: Does Greece want to stay in the eurozone, yes or no?" German Chancellor Angela Merkel told reporters hours before the G20 summit began.
French President Nicolas Sarkozy said Papandreou's government will not get a "single cent" of assistance if Greek voters reject the plan.
"Fundamentally, it is clear that the question that is being posed is that of Greece's future in Europe," he said. "Does Greece want to stay in the eurozone or not? We hope it does. We sincerely hope it does. And we will do our utmost so that this is possible."
Greece was scheduled to receive 8 billion euros ($11 billion) in aid payments this month.
But that aid will only come on the condition that Greece take steps to bring its budget deficit within what is required to be a member of the eurozone. To do so, the Athens government must raise taxes and pass strict austerity measures, even though the idea of either is deeply unpopular in Greece.
In Greece, government ministers have broken ranks with Papandreou over the planned referendum, bringing his government to the brink of collapse.
Greek Finance Minister Evangelos Venizelos said the vote should not be about Greece's future in the eurozone.
"Greece's position within the euro area is a historic conquest of the country that cannot be put in doubt," he said in a statement on Thursday. "This achievement by the Greek people cannot depend on a referendum."
Several other ministers and Socialist party lawmakers called for a coalition government that could approve the bailout package without resorting to a referendum and ensure the country receives the money it needs to avoid bankruptcy.
Since proposing the referendum, Papandreou has stepped away from that plan. After an emergency meeting of his Socialist cabinet on Thursday, he said the referendum "was never a purpose in itself", and he would be happy if the vote were not held.
Papandreou also said he had agreed to talks with the center-right Greek opposition about a transitional government to implement a new EU bailout program. Early elections would follow, the Associated Press reported.
With the Greek debt troubles drawing so much attention, some are concerned that other issues of importance will disappear from the G20 summit's agenda.
"It's very disruptive," said David Shorr, an expert with the Stanley Foundation, a nonprofit dedicated to promoting peace, freedom and justice in the world.
Even so, Shorr said leaders at the summit "have to be responsive" to such urgent issues.
"They really have no alternative but to give a lot of focus to a crisis like this," he said. "For any of those issues that still need the attention of the leaders to work out problems, some of those may slip."
But several longer term concerns, "particularly those having to do with economic rebalancing and the mutual assessment process", have already received attention, Shorr said, so "not everything (will go) out of the window".
Concerns about Greece's place in the eurozone battered equity markets and hit the euro on Thursday.
World stocks, as measured by Morgan Stanley Capital International, were down by 0.7 percent. In Europe, the FTSEurofirst 300 index lost 1 percent.