'Noah' may mean difference between life and death
Updated: 2011-10-11 13:17
(Agencies)
| | | | | | | | | | | |
| --- | --- | --- | --- | --- | --- | --- | --- | --- | --- | --- |
|   | | Comments() | | Print | | Mail | | Large Medium  Small | 分享按钮 | 0 |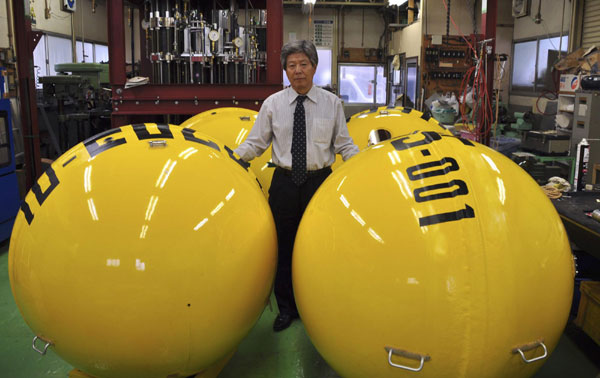 Cosmo Power President Shoji Tanaka speaks as he stands between the company's personal flotation devices named "Noah," that could survive both an earthquake and the tsunami that might follow, at the company's factory in Hiratsuka, south of Tokyo, October 3, 2011.[Photo/Agencies]
TOKYO - It's not quite a yellow submarine, since it's destined for travel on top of the water, not under it.
But the round yellow pod, christened "Noah" for the maker of the ark, could mean the difference between life and death in the case of another killer earthquake and tsunami like the one that hit Japan seven months ago, said its inventor, Shoji Tanaka.
After the March 11 disaster, which devastated a wide swathe of Japan's northeastern coast and left 20,000 dead or presumed dead, Tanaka decided to create a personal flotation device that could survive both an earthquake and the tsunami that might follow.
"At the beginning, I made it as a hemisphere, which I thought to be the best shape to survive earthquakes, but it was vulnerable to tsunami because it capsizes," said Tanaka, president of Cosmo Power, an equipment maker.
"So I changed it to a perfect sphere and made it also easily carried by men and easily accessible."
"Noah" is about 1.2 meters -- or four feet -- in diameter, with one hatch, one glass window and two holes for drainage and ventilation. It's made out of fiber reinforced plastic, which Tanaka said is lighter but also stronger than steel.
It keeps water out and its occupants afloat, all the while protecting them from floating debris. Its bright yellow colour was designed to attract the attention of rescuers.
And if all of that wasn't enough, it's small enough to fit into an average Japanese home.
"Kids will love playing inside it, and those who are anxious about earthquakes will find peace of mind just by keeping it in their house," Tanaka said.
The company said it already has orders for 700 of the four-seater pods, mainly from families, waterfront businesses and fishermen. It sells for 288,000 yen ($3,800) for a standard model and $4,500 for one with interior cushions that help absorb shocks.
"At least, people sheltered inside this ark will have some time to take a breath and get ready for the worst to come," said Yuichi Ashisawa, a Cosmo Power employee.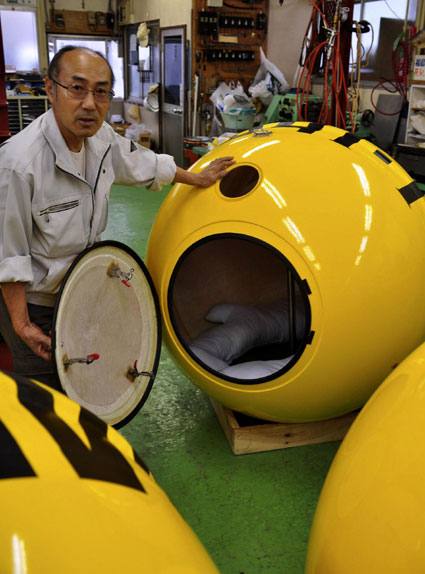 An employee of Cosmo Power Co. shows the company's personal flotation device named "Noah", which could survive both an earthquake and the tsunami that might follow, at a port in Hiratsuka, south of Tokyo October 3, 2011.[Photo/Agencies]