Wall Street protest grows as unions swell ranks
Updated: 2011-10-06 08:06
(Agencies)
| | | | | | | | | | | |
| --- | --- | --- | --- | --- | --- | --- | --- | --- | --- | --- |
|   | | Comments() | | Print | | Mail | | Large Medium  Small | 分享按钮 | 0 |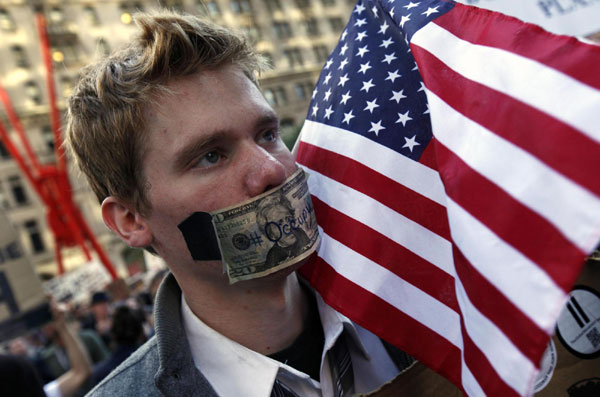 An Occupy Wall Street protester marches up Broadway in New York City, October 5, 2011. Protesters, who have staged demonstrations about the power of the financial industry and other issues and who have camped in Zuccotti Park near Wall street for nearly three weeks were joined by hundreds of Union members in a march and demonstration through lower Manhattan. [Photo/Agencies]
* Protests in New York number at least 5,000
* Regular American workers bolster protest numbers
NEW YORK - Anti-Wall Street demonstrations swelled on Wednesday, as nurses, transit workers and other union members joined a rally at the heart of New York's financial district to complain about unfairness in the US economy.
College students walked out of classes in solidarity with the Occupy Wall Street movement, which has grown in less than three weeks from a ragged group in downtown Manhattan to protesters of all ages demonstrating from Seattle to Tampa.
The protesters object to the Wall Street bailout in 2008, which they say left banks enjoying huge profits while average Americans suffered under high unemployment and job insecurity with little help from the federal government.
By late afternoon the crowd in New York numbered at least 5,000 and was growing. Union members made up a good portion of the demonstration, which was more than twice as large as the largest previous crowd last weekend of about 2,000.
Protesters carried signs reading "Jobs Not Cuts" and "Stop Corporate Greed" and chanted "Wall Street is our street" and "All day, all week, occupy Wall Street."
"Our workers are excited about this movement. The country has been turned upside down. We are fighting for families and children," said United Federation of Teachers President Michael Mulgrew.
Along with the swelling numbers in New York and smaller protests springing up in other US cities, there were signs the protesters are winning broader support.
US Representative Louise Slaughter, a New York Democrat, endorsed the movement.
"The gap between the haves and have nots continues to widen in the wake of the 2008 recession, precipitated by the banking industry. Yet we are told we cannot afford to raise taxes on millionaires and billionaires," she said in a statement. "I'm so proud to see the Occupy Wall Street movement standing up to this rampant corporate greed."
The American Federation of State County and Municipal Employees, Communications Workers of America and the Amalgamated Transit Union joined the New York march, as did the nation's largest union of nurses, National Nurses United.
Students on college campuses added their voices. At the University of Massachusetts at Amherst, students walked out of their classrooms at noon, holding signs reading "Eat the Elite" and "We Can Do Better than Capitalism."
The protests began in New York on Sept 17 and have spread to Los Angeles, Baltimore, Philadelphia, Tampa, St. Louis and elsewhere. A protest in planned in Washington on Thursday.
The protests have been largely peaceful, although last Saturday in New York, more than 700 people were arrested when demonstrators blocked traffic on the Brooklyn Bridge.
In San Francisco on Wednesday, a crowd of several hundred marched in a loop around the financial district, chanting "They got bailed out, we got sold out" and "Join our ranks, stop the banks." Union nurses had a large presence at the protest.
"This is the beginning of a movement," said Sidney Gillette, a nurse at Children's Hospital in Oakland.
In Boston, protesters have set up a makeshift camp in the financial district. Retired teacher Frank Mello said he joined the movement to "demonstrate that we are stronger when we are united and Wall Street is as powerful as we allow them to be."
In Chicago, where dozens of protesters have gathered at the heart of the financial district every day, banging drums and holding up signs, office worker Tom McClurg, 52, said Wednesday was the first day he had joined the group.
"I'm hoping it's going to raise awareness here of people's opposition to domination by financial interest of their elected representatives," he said, adding, "I think there are a million times more people not here who are sympathetic."
Camped out in Zuccotti Park in downtown Manhattan, the New York protesters have sometimes been dismissed by Wall Street passersby or cast in the mainstream media as naive students and mischief makers without realistic goals. Members of the group have vowed to stay through the winter.