Japan's Azumi appointed finance minister
Updated: 2011-09-02 10:46
(Agencies)
| | | | | | | | | | | |
| --- | --- | --- | --- | --- | --- | --- | --- | --- | --- | --- |
|   | | Comments() | | Print | | Mail | | Large Medium  Small | 分享按钮 | 0 |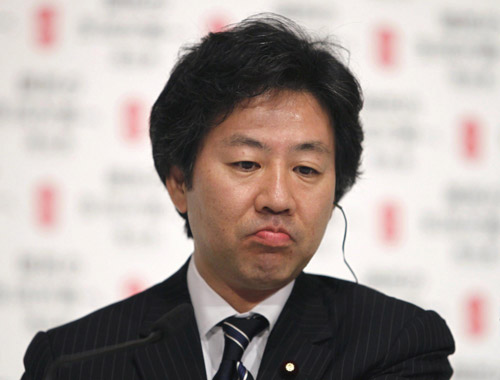 Democratic Party campaign strategist Jun Azumi speaks to journalists at the ruling Democratic Party of Japan's election headquarters in Tokyo in this July 11, 2010 file photo. [Photo/Agencies]
TOKYO - New Japanese Prime Minister Yoshihiko Noda picked a relatively inexperienced lawmaker as finance minister on Friday, signaling the fiscally conservative leader will call the shots on key economic policies.
Noda, a former finance minister who was elected this week as Japan's sixth prime minister in five years, tapped the 49-year-old Jun Azumi, a former parliamentary affairs chief, for the finance portfolio after his first choice turned it down.
Noda's new government faces a long list of challenges: forging a new energy policy while ending a radiation crisis at a crippled nuclear plant, rebuilding Japan's tsunami-devastated northeast and finding funds to pay for that and the vast costs of social welfare in an ageing society.
"Noda's stronghold is the finance ministry," said Jesper Koll, director of equities research at JPMorgan in Tokyo.
"Assuming he is going to leverage that, no politician wants the job because fiscal, budget and tax policy are going to be led by the prime minister," he said, speaking before Chief Cabinet Secretary Osamu Fujiwara officially announced the cabinet line-up.
"Whomever Noda nominates, the finance minister will likely be a 'yes-man' for Mr Noda."
Azumi, a former announcer at NHK public TV who was born in a town in northeast Japan badly hit by this year's tsunami, led the ruling Democratic Party of Japan's (DPJ) campaign in the upper house election in 2010 that the Democrats lost badly.
The defeat gave the opposition a majority in parliament's upper house where they can block bills, so Noda is already being forced to seek opposition cooperation on key policies including taxes while trying to unify his own fractious party.
Azumi has served previously as vice defence minister but little is known about his views on fiscal policy. His first task will be to oversee the drafting of a third extra budget to fund reconstruction of Japan's northeast region, devastated by the huge March 11 earthquake and tsunami.
The finance portfolio is probably the toughest cabinet job as the minister has to try to contain ballooning debt while seeking to stimulate growth. The turnover at the helm of the ministry has exceeded even that in the top government post and the new minister will be Japan's ninth since 2006.
As trade minister, Noda appointed Yoshio Hachiro, a DPJ lawmaker who formerly belonged to the Social Democratic Party and has held acted as parliamentary affairs chief.
The trade minister will play a key role as Japan works out a new national energy policy in the wake of the world's worst nuclear crisis at the tsunami-crippled Fukushima plant.
Noda has distanced himself from his predecessor Naoto Kan's harsher anti-nuclear stance, but acknowledges that building new reactors will be impossible given public safety concerns.
Motohisa Furukawa, a former finance ministry bureaucrat, takes over as economics minister while Koichiro Gemba, 47, a former national strategy minister, becomes foreign minister.