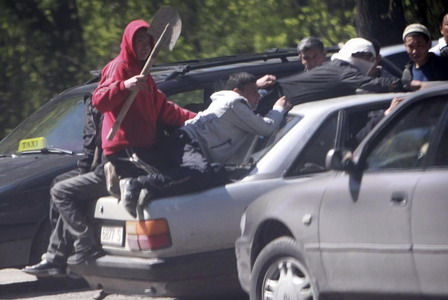 Rioters travel on top of a car during an unrest in the village of Mayevka near Bishkek, April 19, 2010. [Agencies]
BISHKEK -- An overnight riot in a village near Bishkek has left three people dead and 28 others injured, the Kyrgyz health ministry said on Tuesday.
Related readings:


 Kyrgyz leaders vow reforms, but resistance holds


 Supporters of former Kyrgyz president block building


 Former Kyrgyz president leaves Kazakhstan for Belarus


 Kyrgyz leader to quit if safety assured
The ministry said that the latest casualty figures were recorded at 8 p.m. local time on Monday. An earlier tally put the death toll at two and the number of the injured at 15.
A crowd of youths aged between 15 and 20 attempted to seize land of residents in Mayevka late on Monday and clashed with local residents, local media reported. In the riot, these youngsters looted several residential houses, set them on fire, and exchanged gunfire with villagers. Many residents were forced to flee the village.
The unrest has died down as of 10 p.m. local time on Monday after the interior ministry took urgent actions against the rioters, the ministry's press service said. A total of 130 rioters have been detained and law enforcers were making all-out efforts to hunt other criminal suspects.
Roza Otunbayeva, prime minister of the Kyrgyz interim government, announced Monday night the authorities would be resolute in cracking down on looting, mayhem and arson and mete out severe punishment for those breaching the law.
It was reported that the interim government had dispatched up to 1,000 soldiers and policemen backed by armored vehicles to the densely-populated village Monday night. Armored patrols were also deployed in Bishkek and armed soldiers were seen maintaining law and order in the city along with policemen.
Looting and violent clashes have erupted successively in many parts of Kyrgyzstan, particularly Bishkek, since opposition protesters swept the tiny Central Asian country on April 7, toppling the government of President Kurmanbek Bakiyev.
The interim government, which was formed by the opposition, has vowed repeatedly to take stern measures against rioters and authorize the interior ministry to shoot at looters when necessary. But so far there has been no noticeable improvement in the country's rule of law situation.