MOSCOW - The Kyrgyz opposition said on Wednesday it had forced the Central Asian country's government to resign after troops shot at protesters besieging government buildings, killing dozens.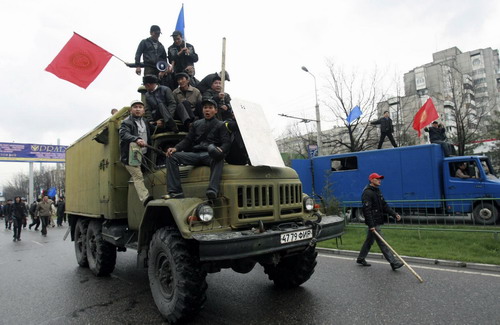 Protesters sit on a military vehicle during clashes with riot police in Bishkek April 7, 2010. At least 17 people were killed and 142 injured in clashes between riot police and opposition protesters in the capital of Kyrgyzstan on Wednesday, the Kyrgyz Kabar news agency said. [Agencies] 
"We have reached an agreement that the government will resign. That has not been signed on paper yet," Galina Skripkina, a senior official in the opposition Social-Democratic Party and member of parliament, told Reuters.
President Kurmanbek Bakiyev had flown to the southern city of Osh. "Bakiyev has taken a plane from Bishkek to Osh and he has already landed there," she said.
"The opposition is in full control of power," an opposition leader, Roza Otunbayeva, said, Russian news agency RIA reported earlier.
The announcement followed a day of violent clashes in Bishkek and other towns. Spokesmen for the government and the president were not available for comment.
Another opposition leader, Temir Sariyev, said the opposition had entered the government building in central Bishkek and Kyrgyz Prime Minister Daniyar Usenov had written a resignation statement, RIA reported.
"Bakiyev has left the White House ... He is no longer in Bishkek," said Sariyev, who was arrested on his arrival on a flight from Moscow on Wednesday, but later freed by the protest.
Bakiyev himself came to power after 2005 protests which ousted Kyrgyzstan's first post-Soviet President Askar Akayev.
Political unrest over poverty, rising prices and corruption has gripped Kyrgyzstan since early March. About a third of the population live below the poverty line and remittances from workers in Russia have fallen during the global economic crisis.
The opposition said at least 100 people had been killed on Wednesday in clashes that have spread since last month across the ex-Soviet Central Asian country that hosts a US military air base supporting troops in Afghanistan, and a Russian base.
Russian Prime Minister Vladimir Putin earlier denied Russia -- a major donor to Kyrgyzstan -- had played a hand in the clashes.
"Neither Russia, nor your humble servant, nor Russian officials have any links whatsoever to these events," Putin was quoted as saying by RIA news agency.