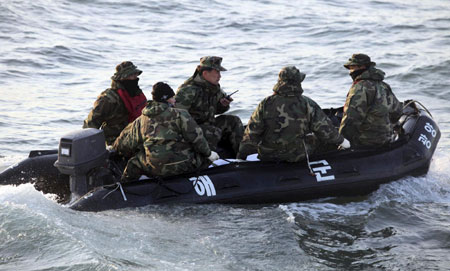 South Korean military rescuers carry the body of Senior Chief Petty Officer Nam Ki-hoon, one of the 46 missing crew members of the Navy corvette Cheonan that sank on March 26, to the transport ship Dokdo, off Baengnyeongdo, April 3, 2010. [Agencies] 
SEOUL - The first body of 46 missing sailors of a Republic of Korea's (ROK) warship that sank on March 26 was found on Saturday, according to Seoul's Yonhap News Agency.
The body was found inside the mess hall in the stern of the ship at around 18:10 pm local time, it added.
The identity of the body has been determined as Senior Chief Petty Officer Nam Ki-hoon, according to the report.
The 1,200-ton Navy vessel "Cheonan" with 104 crew members onboard sank off the ROK island of Baekryeongdo off the west coast on March 26 due to an unexplained explosion. Only 58 sailors were rescued.