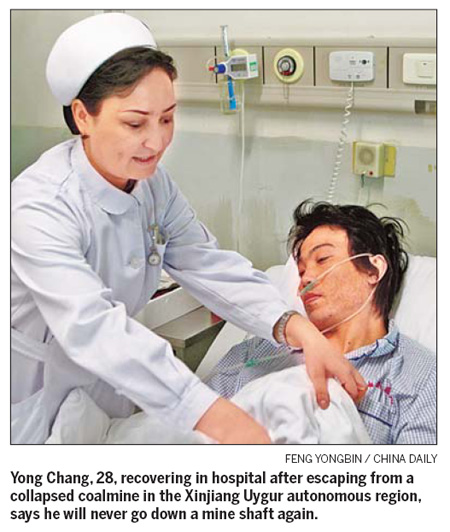 Coal mine worker in Xinjiang recalls horror of shaft collapse
Hoboksar, Xinjiang
Yong Chang is very clear about what he will not do in the future.
"I will never go down the shaft and be a mine worker again for the rest of my life, no matter how much they pay me," said the 28-year-old, who is still traumatized after escaping from a collapsed coal mine in the Xinjiang Uygur autonomous region.
Yong, who is recovering in hospital, was the first to be rescued from Shajihai Coal Mine when the shaft's ceiling suddenly collapsed at about 10:30 am on Tuesday. The coalmine was under construction in the Mongolian autonomous county of Hoboksar, 500 km from Urumqi, capital of the region.
A total of 11 workers were rescued while 10 others are still trapped in the shaft filled with mud and sand. The trapped workers are between 20 and 51 and they are from Hebei, Shandong, Gansu and Inner Mongolia. Their families have arrived at the coal mine.
The trapped workers need a "miracle" to survive, an official with the rescue team told China Daily on Friday.
At about 3 am Friday morning, two special rescue teams equipped with search dogs and detectors arrived at the scene hoping to find any sign of survivors, but the teams later said the chances of the trapped workers surviving the accident are "extremely slim".
The local authority is drafting a compensation plan for the victims, said Zhang Hongwei, chief commander of the rescue mission.
A China Daily reporter, who was allowed to go down the mine on Thursday night, found rescue efforts to be extremely slow because the shaft was filled with water and its muddy surface did not allow for supporting reinforcements to be built.
"About two hours into my shift on Tuesday, I heard a loud bang like something exploded right behind me. Before I knew it, I was hit by sand and rocks tumbling from the ceiling," Yong recalled.
"Two colleagues were buried under the huge pile of mud right in front of me."
Yong said he and his colleagues were sent to pump and clear water in the shaft that day. But the falling sand and rocks raised the water level quickly, reaching 4 meters and cornering him and three others on relatively higher ground.
"We had safety gear and emergency oxygen masks with us, but we panicked and didn't even think of using them. Everything happened all of sudden in the dark and wet shaft.
"I heard about miners dying in accidents and I thought I was going to be one of them."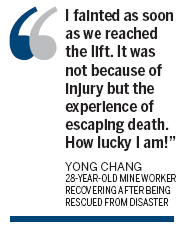 But Yong and the three others didn't give up hope. They started to dig their way out with spades.
"I fainted as soon as we reached the lift. It was not because of injury but the experience of escaping death. How lucky I am!"
But that happiness is tinged with sorrow about his friends still trapped in the mine. "It's been three days now, I really hope they survive. Although I don't think they will, I won't give up hope," Yong said, tears welling. "This horrific experience will stay with me forever."
Like many colleagues, Yong was tempted to work in the mine by the high pay despite the dangerous nature of the work. He could earn up to 5,000 yuan a month by working in the shaft deep underground, which he could not have dreamt of as a farmer in his hometown in Inner Mongolia.
The Shajihai Coal Mine, owned by the Luneng Coal-Electricity Development Co Ltd, is designed for an annual output capacity of 900,000 tons. Construction started in June last year and is scheduled to start production by October next year.
China Daily