KABUL – Taliban fighters attacked a detachment of German troops who were on a bridge-building and mine-clearing mission, triggering a gunbattle that left three soldiers dead, the German Defense Ministry said.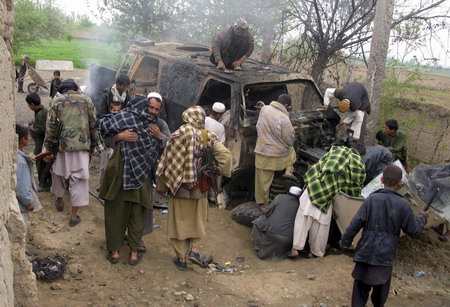 Taliban insurgents and civilians stand in front of a destroyed German military vehicle in Isaa Khail village of Char Dara district of the northern Kunduz Province April 3, 2010. Three German soldiers were killed and five others seriously injured in fighting in Kunduz, the German Army Command in Potsdam said on Friday. [Agencies]
Five other Germans were wounded in the fighting Friday southwest of Kunduz city, the ministry said.
German troops and Afghan police exchanged fire with their attackers for about an hour, with fighting resuming three hours later, local government chief Abdul Wahid Omar Khil said. He estimated about 200 Taliban militants were involved.
One Taliban fighter was killed and another was wounded, but the Germans and Afghan police were unable to use heavy firepower because the militants were firing from inside and on top of civilian homes, Omar Khil said.
Kunduz provincial police Chief Gen. Abdul Razaq Yaqoubi said the battle began after a mine exploded under a German armored vehicle. He said the troops were preparing to build a bridge and clear mines in the Chahar Dara area, about eight miles (12 kilometers) from the provincial capital.
Berlin has more than 4,000 troops in Afghanistan - the third largest foreign troop contingent - as part of the NATO presence fighting the Taliban and seeking to establish central government authority.
German forces control much of the country's north, which is relatively peaceful. The surroundings of Kunduz, however, have recently proven increasingly volatile.
Including Friday's casualties, 22 German soldiers have been killed by fighting or attacks in Afghanistan since 2001 and another 138 wounded, according to the Defense Ministry.
Another 17 German soldiers died of natural causes or accidents while on duty in Afghanistan.
Also Friday, a main political rival accused Afghan President Hamid Karzai of undermining the war against the Taliban by blaming the international community for fraud in last year's election.