SHANGHAI - China has taken the lead in investments in clean energy, spending nearly double what the US did in 2009, as it ramps up projects in both renewable and traditional energy, a report said Thursday.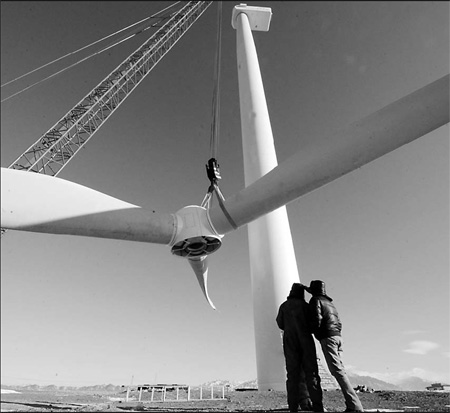 Engineers install China's most powerful inland wind turbine in Dabancheng wind field in Northwest China's Xinjiang Uygur Autonomous Region. [Xinhua]
China's investment and financing for clean energy rose to $34.6 billion in 2009, out of $162 billion invested globally, according to the report by the nonprofit Pew Charitable Trusts. US was ranked second in spending on renewable energy, at $18.6 billion, with European nations also recording strong growth.
"Countries are jockeying for leadership. They know that investing in clean energy can renew manufacturing bases, and create export opportunities, jobs and businesses," Phyllis Cuttino, who directs the Pew Environment Group's Global Warming Campaign, said in a statement.
Related readings:


 China tops US in spending on clean energy


 'Clean' coal power to go online in Tianjin


 Grids pushed to tap clean power


 'China speed' in clean energy business
The report comes as China is clinching a slew of energy and resource-related deals meant to help ensure access to the commodities needed to keep its fast-growing economy booming.

On Wednesday, China's offshore oil and gas company CNOOC agreed to buy 3.6 million tons of liquefied natural gas a year, for 20 years, from an Australian energy project operated by BG Group PLC. Though a value for the deal was not released, Australian media reports estimated its worth at 80 billion Australian dollars ($73 billion), which is the country's biggest single company-to-company contract ever.
Natural gas is cleaner than the coal that now fuels about three-quarters of China's electricity generation. But Beijing also is throwing massive resources into nurturing renewable energy, both to counter environmental damage from fossil fuel emissions and to curb its soaring reliance on imports.
The US still leads the world in installed renewable energy, with 52.2 gigawatts of wind, small hydroelectric, biomass and waste generating capacity, the Pew report said.
But China is quickly closing the gap, as a doubling in wind energy capacity alone boosted its own installed renewable energy capacity to 49.7 gigawatts in 2009. Germany trails with 30.9 gigawatts, the report said.
It said much of the impact from $184 billion in stimulus spending earmarked for clean energy by governments of the Group of 20 industrial nations has yet to come. Of that amount, China is due to spend nearly $47 billion on improved energy efficiency, clean vehicles, installation of solar power and improvements to electricity grid.
Spending on clean energy is forecast at $200 billion for 2010, up about 25 percent
US spending on renewable energy fell 42 percent in 2009 from the year before, constrained by tight credit and the lack of a strong policy framework, the report said. But it is likely to rise faster this year, helped by the enactment in 2009 of production tax credits for wind energy and investment tax credits for solar power.
The report noted that the US still dominates venture financing and technology innovation for clean energy, but in manufacturing it lags behind China, which has become a powerhouse in production of both solar cells and wind turbines.
With climate change legislation stalled in the US Congress, the outlook for faster growth remains uncertain, the report noted.
In terms of clean energy investment relative to the size of its overall economy, China ranks third in the G20 at 0.39 percent, well behind Spain, which leads at 0.74 percent. The US, at 0.13 percent, was 11th, the report said.
"There are reasons to be concerned about America's competitive position in the clean energy marketplace. Relative to the size of its economy, the United States' clean energy finance and investments lag behind many of its G20 partners," the report said
Associated Press