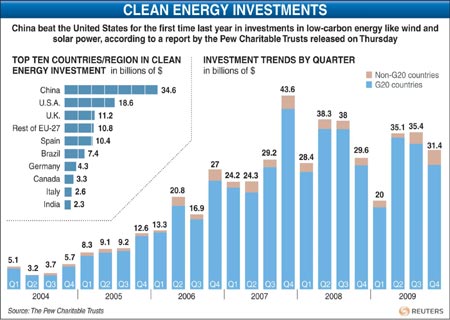 China beat the United States for the first time last year in investments in low-carbon energy like wind and solar power, according to a report by the Pew Charitable Trusts released on Thursday.
In 2009 China invested $34.6 billion in the clean energy economy while the United States invested $18.6 billion and came in second place, according to the report called, "Who's Winning the Clean Energy Race?"
Phyllis Cuttino, director of Pew Environment Group's US Global Warming Campaign, said the United States lacks strong national policies to support renewable energy.
"I'm worried that we are going to fall further down the list next year," she said. "We really need to pass policy."
Overall, investments in clean energy declined about 6.6 percent in 2009 to $162 billion around the world due to the recession, said the report. It forecast investments would grow to $200 billion in 2010.
Related readings:


 Huaneng to raise clean energy mix


 'China speed' in clean energy business


 China sees growing share in clean energy

 Sino-US clean energy partnerships win praise
China has adopted national targets for renewable power including mandates for 30 gigawatts each from wind and biomass energy by 2020. It also has a fixed feed-in tariff for wind farms, which guarantees a minimum price for electricity from the source that's higher than that from traditional power sources like fossil fuels.
Many US states have renewable portfolio standards mandating utilities to generate minimum levels of power from clean sources.
But amid delays in climate legislation Washington has not developed a national standard. The United States lacks feed-in tariffs for clean energy.
Countries that participate in full-scale mandatory carbon markets like Spain, Germany and the United Kingdom are among those that have the most robust and quickly growing clean energy programs, the report said.
US Senators John Kerry, a Democrat, Lindsey Graham, a Republican, and Joseph Lieberman, an independent, hope to release an outline of a compromise climate bill next month. Sources have said the plan would impose cap-and-trade on power plants and refineries in 2012 and on manufacturers by 2016. But it could face opposition from lawmakers from fossil fuel-rich states.