Residents calmly work to restore their lives
Editor's note: Andre Vltchek, an American political analyst, writer and filmmaker, traveled Chilean cities such as Santiago, Curico, Rancagua and Constitucion to see how the country is rising above the trauma the earthquake.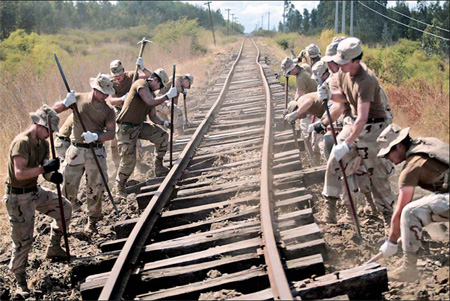 Soldiers repair an earthquake damaged railway near Constitucion, Chile, on Sunday. [Cristobal Fuentes / Associated Press]
Heavy machinery is breaking the remaining walls of adobe houses in the once impressive historic district of the city of Curico. Its cathedral - a national monument - is in ruins and it is said that several people died when it collapsed. There is hardly any block of houses intact in the center - dozens of buildings are gone, hundreds damaged, debris is still scattered on the ground.
Nevertheless, the people of Curico seem to be calm. Women are wearing high heels and their best clothes, old couples strolling down the sidewalks, tenderly supporting each other. "Curico will not be defeated!" reads the slogan glued to windows.
'No time to lament'
As bulldozers are leveling her house, Maria Rodriguez and her husband watch, consoled by neighbors. "There is no time to lament," she says. "Right now the country has to unite and help those who are suffering, then to rebuild. Once everything that has to be done is done, we will cry. But not now; not yet."
On the main square, the municipal government erected a huge tent and its entire staff was ordered to move there and work in total transparency. Near the tent, police direct traffic and help old people to find information and other assistance.
The powerful earthquake of magnitude 8.8 on the Richter scale - one of the worst in human history, which hit Chile on Feb 27 - was followed by a 7-meter tsunami that devastated the coast. The original estimate of 800 deaths has been scaled down to 500 with 200 still missing - arguably the smallest loss of human lives in any tragedy of comparable scale.
Related readings:


 Magnitude 6.7 aftershock hits off coast of Chile


 Strong aftershock makes many sleepless in Chile


 Chile lifts tsunami alert on coast after tremors


 New Chile gov't declares state of catastrophe after aftershocks

Almost immediately after the quake Chile went to work, mobilizing millions - determined and proud. The more than 1,000-kilometers long, four-lane southern highway between Santiago and Puerto Montt has been reopened again, almost all the bridges have been repaired and tolls are waived.
It is obvious that Chile can cope. China was one of the first countries that offered aid, which was accepted: Beijing sent a Boeing 747 cargo plane with water purification plants, tents and other essential equipment.
Cuba dispatched a team of doctors - some of the best in Latin America - which almost immediately set up a well-equipped field hospital just outside the city of Rancagua, consisting of air-conditioned tents complete with an operation theater.
"We are working side by side with our Chilean colleagues," explained Dr Carlos Peres Dias, director of the hospital. "Rancagua medical facilities were damaged and here we are, doing all we can to help. In two weeks time we treated over 1,500 patients. It is a great privilege to be here. We feel and give so much love and affection."
Despite the magnitude of the quake, there is almost no damage to the capital city of Santiago. Some windows in the tall buildings cracked, one new apartment building in the Maipu neighborhood broke in half but remained standing, and Santiago Airport experienced structural damage. Several old houses in the center were ruined. However, this city with more than 5 million inhabitants almost immediately went on with its life. Most services, including those of the extensive subway system, were restored in less than one day.
Victor Hugo de la Fuente, legendary director of Le Monde Diplomatique Chile explained: "No matter where one stays politically, one has to admit: Corruption in Chile is extremely low, compared to most of other parts of the world. When they build something here, it almost always stands, no matter what happens."
Alia Saca, a Chilean architect, added: "Chile is the most seismic country on earth and this one was the fifth most powerful earthquake ever registered. Considering all this, it is safe to say that construction norms and regulations, as well as the execution of the projects, are sufficiently good. Look, in an ideal world not one building should have collapsed, no matter what.
"But some did, like the one at Alto Rion in the city of Concepcion. Still, we all know that in other countries, much weaker earthquakes wipe out entire neighborhoods and houses there are converted to dust, with few survivors."
However, Chile, which has developed into a prosperous country after the collapse of the right-wing dictatorship in 1988 and after 20 years of consecutive center-left and left wing governments, has almost zero tolerance for any errors that cost human lives. Extremely high construction quality and immediate help from the government, military and all sectors of society is something that is taken for granted here.
More than 300 km from Santiago, on the coast, the magnitude of the tragedy can be seen with the naked eye. The city of Iloca - a once beautiful seaside resort - is no more. The historic city of Constitucion is scarred beyond recognition - huge boats, trucks and heavy equipment was thrown by the tremendous force of the sea to the top of the houses. The 7-meter high tsunami wave took away entire blocks, ruining the entire historic center. Searching for their loved ones, people are leaving notes on now empty plots.
People died in Constitucion, but nobody did in Iloca. It is said that after the earthquake, local fishermen and a young police officer found themselves next to each other. One of the fishermen suddenly said,: "She (the sea) feels weird!" No questions were asked. The group began immediate evacuation of the city. A few minutes after everyone was safe, the powerful tsunami struck and leveled the town.
'Be strong, Chile!'
Now both Iloca and Constitucion are considered "ground zero" of the disaster. And Chile rose to the tremendous challenge - to save, to rebuild, and to help those in need.
Wooden houses are now being erected along the coast - not just tents but real temporary houses with electricity, toilets and running water. The Chilean electricity company is restoring lines, food and water are delivered by road and by helicopters, and gas is brought on trucks. Generators and water purification plants are installed in affected areas. Heavy trucks and bulldozers are tearing down what is beyond salvation and the medics are working around the clock.
"Fuerza Chile!" ("Be strong, Chile!") and sometimes the more emotional: "Viva Chile, mierda!" ("Long live Chile, damn it!") decorate car trunks, houses and roads.
Once notorious for oppressing their own citizens, the police and army now drive nails into people's damaged houses, console confused and exhausted old people, bring water and food, and rescue the needy. It is a new Chile - confident, strong, compassionate.
The words of one old woman who stopped me in the middle of the street in the city of Curico resonate:
"We play hard here. In Chile we dance, we drink wine, we sing loudly ... But when tragedy strikes, we unite. Nobody is alone now in Chile."