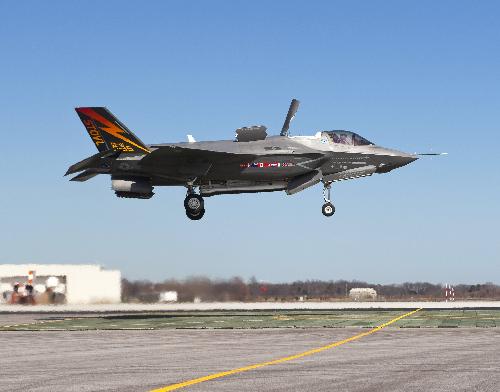 The supersonic Lockheed Martin F-35B Lightning II stealth fighter, piloted by Graham Tomlinson, lands vertically for the first time at Naval Air Station Patuxent River, Maryland on March 18, 2010. The F-35B will be used by the US Marine Corps, the United Kingdom's Royal Navy and Royal Air Force, and the Italian Navy and Air Force. It is the first supersonic fighter capable of short takeoffs and vertical landings, and will have the capability to operate from austere bases near front-line combat areas, and from small ships. [Xinhua]
WASHINGTON - US weapons manufacturer Lockheed Martin said Thursday the company's F-35 Joint Strike Fighter succeeded in vertical landing test for the first time earlier in the day, a rare piece of good news for the problem prone program.
According to a press release from the company, the test was conducted with an F-35B stealth fighter in Naval Air Station Patuxent River in Maryland, near Washington. The test pilot performed a short takeoff, and positioned the aircraft about 50 meters above the airfield, where the jet hovered for approximately one minute then descended to the runway.
The test confirmed the plane's ability to land in confined areas. Doug Pearson, Lockheed Martin vice president of F-35 test and verification, said the test demonstrates the fighter's capacity to operate from a very small area at sea or on shore, which he called "a unique capability for a supersonic, stealth fighter." More of such tests would be conducted in the future.
F-35 is the Pentagon's marquee fighter jet program, but it was marred by delays and budget overruns. Senior Pentagon officials informed the Congress last week the price of F-35 has gone up drastically to 80 to 95 million apiece in base-year 2002 US dollars, from the original 50 million in 2001. The Pentagon plans to spend an estimated 300 billion dollars over the next 25 years on the program.