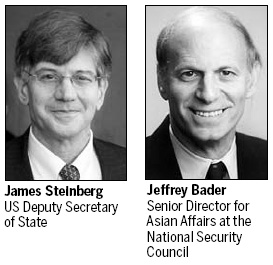 US envoys' visit called "explanation journey" to mend strained ties, renew bilateral relations
BEIJING: US President Barack Obama agreed to sell $6.4-billion worth of weapons to Taiwan and meet with the Dalai Lama under pressure from the US Congress, the two US envoys who wrapped up their visit on Thursday reportedly told Chinese officials, according to a source close to the US embassy in Beijing.
Beijing and Washington have released few details of the two-day visit by Deputy Secretary of State James Steinberg and Jeffrey Bader, the senior director for Asian affairs at the National Security Council, but the source told China Daily on Thursday that this was basically an "explanation journey."
"During the visit, the two diplomats mainly explained to the Chinese officials in charge of foreign affairs why the Obama administration provoked China (by deciding to sell weapons to Taiwan and meeting the Dalai Lama)," the source said after the two diplomats wrapped up their unusually low-key visit and left for Japan.
"The main argument (the two diplomats offered) was that the Obama administration did so due to significant political pressure from the US Congress," said the source, declining to be named.
Related readings:


 China warns US to be 'cautious' following arms sale


 US arms sale to Taiwan reveals ignorance, disrespect


 Beijing furious at arms sale


 Will US arms sale to Taiwan severely harm the Sino-US relations?


 US arms sale to Taiwan not to harm relations: analysts
During the meeting with Foreign Minister Yang Jiechi, State Councilor Dai Bingguo and other officials, the diplomats' "explanation journey" was aimed at mending the Sino-US relationship, the source said.
The US embassy in Beijing refused to comment on what the source said.
Foreign Ministry spokesman Qin Gang said on Thursday that the two US envoys "candidly and deeply" exchanged ideas on topics of common concern, without elaborating.
In addition to meeting with Dai and Yang, the US diplomats held a work discussion with Vice-Foreign Minister Wang Guangya, Qin said at a regular news briefing.
Qin said the Sino-US relationship, which was developing smoothly through most of last year, got "seriously disturbed" during the past two months as the US violated some basic principles of the bilateral relationship.
"The most urgent thing ahead is for the US to show sincerity and actions to respect China's core interests and important concerns and bring the bilateral relationship back to a healthy and stable track (as soon as possible)," Qin said.
The US embassy in Beijing too has kept a low profile and has not made public the discussion agenda or held a media briefing on the officials' visit. "We will not release any further information; we have no such arrangement," an embassy press officer said on Thursday.