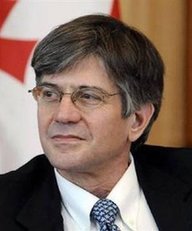 US Deputy Secretary of State James Steinberg in Tbilisi February 5, 2010. [Agencies]
WASHINGTON: Beside talks over the resumption of the Six-Party talk and Iran nuclear issues, fixing the worrisome US-China relations will be the main task for the visting US Deputy Secretary of State Jim Steinberg in Beijing, according to the US Department of State.
"I would think that Deputy Secretary Steinberg will clearly talk about Iran, but it also will clearly talk about the broad US-China relationship, where we are at this stage," said Philip J. Crowley, Assistant Secretary and the spokesman of the Department of State at Monday's press briefing.
"We've gone through a bit of a bumpy path here, and I think there's an interest both within the United States and China to get back to business as usual as quickly as possible."
Steinberg is expected to touch a full range of issues of common concerns, including the US President Barack Obama's recent meeting with the Dalai Lama, the US arms sale to Taiwan, cooperation in climate changee environment protection and piracy in and around of the Horn of Africa, Crowley said.
Related readings:


 Senior US diplomat leaves for China, Japan


 US Ambassador: 2010 to be good for Sino-US ties


 Ambassador urges US to respect China's core interests


 China still largest holder of US Treasury securities
"So this is a very detailed relationship, but to the extent that there have been issues that have cropped up recently in the relationship, I think this will be an opportunity to kind of refocus on the future and get those views - express our views in a straightforward way to our interlocutors from China. We'll also receive their perspective as well," he added..
Steinberg will be accompanied by National Security Council (NSC) Senior Director for Asian Affairs Jeff Bader, who departed Monday for China and Japan. They will be in Beijing Tuesday and Wednesday and in Tokyo Thursday and Friday.