WASHINGTON: Another major snowstorm hits the US capital of Washington DC, and nearby area on Tuesday, two days after the city was covered by the record downfall of snow.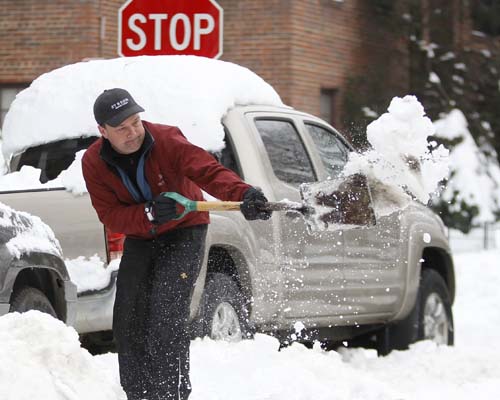 A man attempts to dig his car out of the snow on Capitol Hill in Washington, February 9, 2010. The federal government announced it would remain closed on Tuesday and most schools planned to shut down as residents of the mid-Atlantic struggled to dig out from a blizzard that dumped two feet (0.6 metres) of snow on the region. [Agencies] 
The National Weather Service predicted that another 10 to 20 inches (25 centimeters to 50 centimeters) of snow would fall on northern Virginia and eastern Maryland, including Washington DC, through Tuesday afternoon to Wednesday. Philadelphia, Pennsylvania, could be slammed with 3 to 7 inches of snow on Tuesday and an additional 8 to 12 inches on Wednesday, and other major cities such as Boston and New York City also expect some snow, said the services.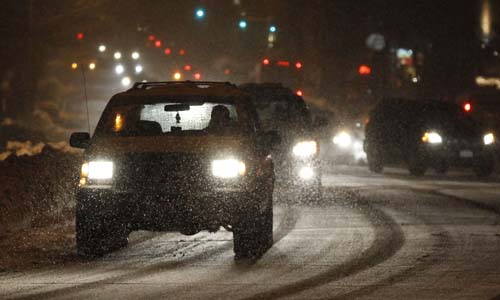 Falling snow is lit by vehicles headlight as the second major snow storm to affect the Atlantic coast in five days hits the nation's capital in Washington, February 9, 2010. [Agencies] 
Federal government agencies and schools are closed on Tuesday for a second day, and hundreds of flights were canceled as airlines consider the impact by the severe weather situation.
The blizzard last weekend left over 32 inches of snow fell in DC area, breaking a record of 23 inches set on Jan. 7 to 8, 1996 and putting Virginia, Maryland and Washington DC, all under the state emergency of snowstorm.