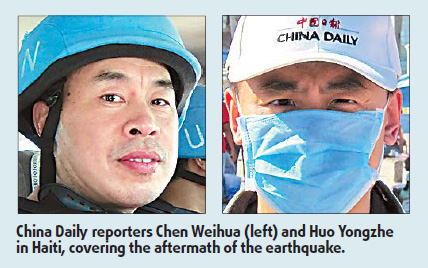 From time to time these past days, I have been thinking of Emile Castonguay, a Canadian actor I ran into on the way to Haiti to cover the aftermath of the earthquake.
The tall and handsome man has been to Haiti several times and has even organized a Haitian film festival in Montreal.
However, his latest mission to Haiti was not related to film or art that he has a passion for, but to get three Haitians - his would-be sister-in-law and parents-in-law - to Canada since their house had collapsed during the earthquake on Jan 12.
Castonguay was quite confident that he could help them emigrate to Canada within a month, instead of three years as required by law. For this, he and his girlfriend campaigned hard in Canada before he embarked on his trip.
Nevertheless, when we met again at a hotel in Petionville of Port-au-Prince, he looked bewildered. Canadian embassy officials even refused to meet him, he said, his tone quite sad.
I know that Castonguay is not going to give up easily, given the huge amount of help he has given the Haitian community in the days since the earthquake struck. Unfortunately, I have been unable to hear from him the whole past week.
I hope the four of them have safely reached Canada, where Haitians make up one of the largest black communities.
In fact, huge crowds and long lines have been seen day and night outside the Canadian and US embassies in Port-au-Prince.
Just like on the Haitian side of the border with the Dominican Republic, people were seen clinging to fences, their eyes full of hope and despair - hope for a future on the other side of the border or in a different land, and despair at the situation in their own country.
There are plenty of Haitians living in Canada, the United States and the Dominican Republic. Leaving the country offers hope for a lot of Haitians. But rebuilding their homeland would bring even more hope for generations of Haitians to come.