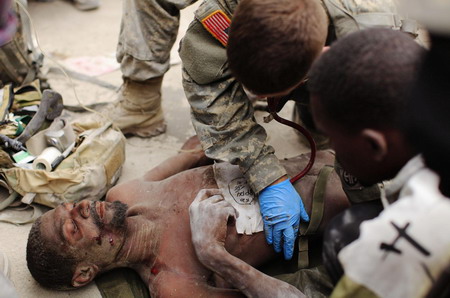 Rico Dibrivell is attended to by a US military rescue team after being freed from the rubble of a building in Port-au-Prince January 26, 2010. [Agencies]
PORT-AU-PRINCE: US troops pulled a man alive from under a collapsed building in Haiti's capital on Tuesday as UN troops sprayed tear gas at survivors desperate for food two weeks after a catastrophic earthquake.
The man, covered in dust and dressed only in underpants, was rescued by soldiers of the 82nd Airborne Division from a ruined house on Rue de Miracle in downtown Port-au-Prince, a Reuters witness reported.
US authorities identified him as 31 years old and said he had a broken leg and was severely dehydrated.
More than 130 people have been pulled out alive from under wrecked buildings by rescue teams from around the world, although hopes of finding more survivors are fading daily.
Full Coverage:

Haiti Earthquake
Related readings:


 Travolta lands in Haiti piloting relief supplies


 Haiti telethon raises charity estimate to $61 million


 Haiti relief efforts involve 'most complex operations'


 4.7-magnitude aftershock jolts Haiti
The latest rescue, exactly 14 days after the magnitude-7.0 earthquake killed as many as 200,000 people, came as the US-led relief effort was focused on getting help to hundreds of thousands of survivors left homeless, hungry and injured.
Brazilian UN peacekeeping troops sprayed tear gas at a frantic crowd of thousands crowding a food handout outside the wrecked presidential palace earlier on Tuesday.
"They're not violent, just desperate. They just want to eat," Brazilian army Colonel Fernando Soares said. "The problem is, there is not enough food for everyone."
US troops, UN peacekeepers and aid workers have widened the distribution of food and water, but many in the poor Caribbean country are still not receiving emergency aid.
Some of the food handouts in the capital have turned unruly, although the United Nations said the overall security situation in Port-au-Prince was stable and that about two-thirds of Haiti's police force had returned to work.
At the presidential palace on Tuesday, UN troops with shotguns protected relief workers handing out sacks of rice with US flags on them. Armored trucks formed a cordon to control the crowd and people were searched as they entered the checkpoint near a makeshift camp.
"Yesterday they gave us rice, but there was not enough. There were too many people," said Wola Levolise, 47, who is living in the camp with her nine children.
The World Food Program said it handed out 60 tonnes of food but ended the distribution when the crowd got out of control.
"There are isolated, regrettable incidents but these are the exceptions and not the rule," a WFP spokesman said.
The UN agency said it had delivered nearly 10 million meals to almost 450,000 people since the quake.
Lewis Lucke, the retired US ambassador coordinating the relief effort, said aid was moving as fast as possible given the chaotic conditions.
"This is really a disaster of biblical proportions," he told Reuters.